You probably have heard by now the news on the latest outrageous release by a luxury brand. The Prada top.
For a moderate 690EUR you can get a tank top with Prada's tag sewn on it. Oh, what a wonderful world we live in.
What do the Prada top and its price point say about luxury branding?
Let's just be honest here for a minute… Are we really surprised that a luxury brand is releasing something ridiculously expensive yet basic?
…
Nope.
It seems to be the way to go lately. Balenciaga is the King of this habit, literally selling trash bags for 1800USD. Let's not forget about last year when the brand had the audacity of charging 895EUR for what are essentially every dad's favourite go-to shoes, a pair of ASICS. Guess shocking people into buying your shit works?
Now, that's not to say that all luxury products are outrageous in price. We can understand when a luxury item, or anything high fashion, has a pretty high price point. It takes copious amounts of experience, knowledge, talent, creativity and time to design and physically make many of these pieces. The materials involved are often of the utmost quality, and good craftmanship is something worth paying for. But being charged almost 1K for a tank top goes beyond any reason for expensive shirts. It begs the question, is it simply a luxury branding stint? It's hard to believe that those present in the room when this Prada top was green-lit weren't aware of the public outrage and subsequent mediatic attention it would evoke. Showering the brand with copious visibility not only among luxury consumers but also among Gen Z consumers and the whole of the internet basically.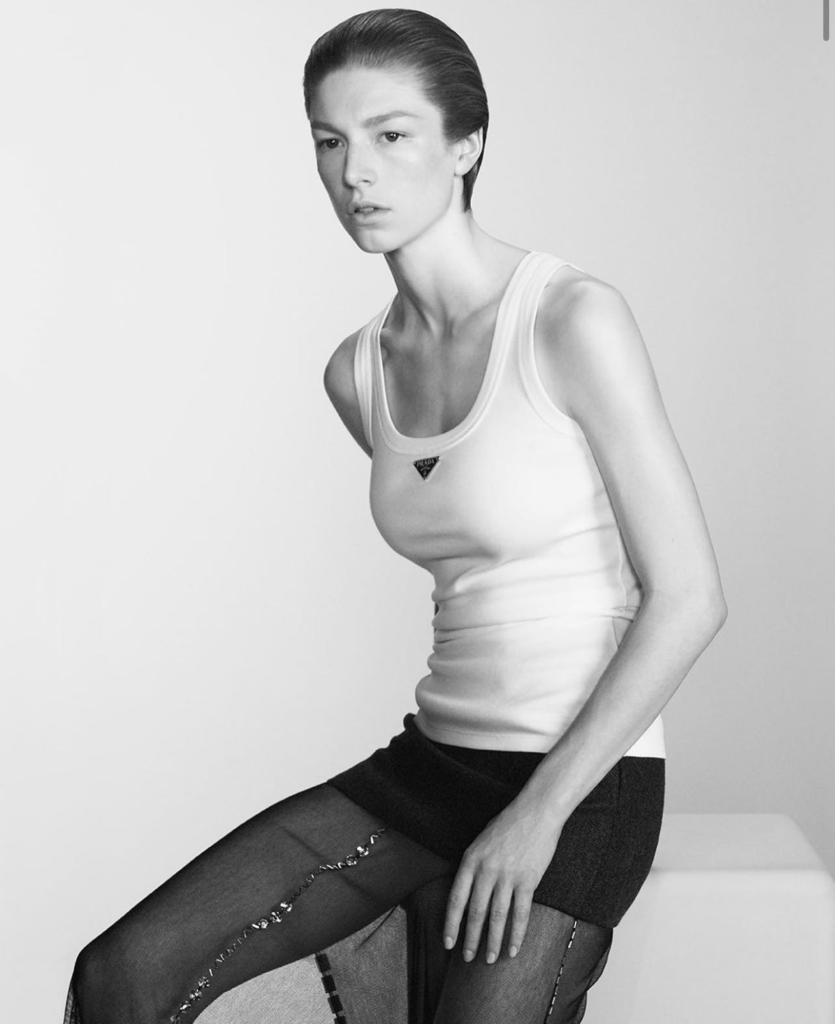 Plus, just ask yourself… How Gen Z buys luxury? They sure love to wear things ironically. Items that are so unbelievably outrageous they oftentimes become a statement. Perhaps Prada is onto something here…
"But… The materials are indeed high quality and it's not like other tank tops"
Those who have actually gotten ahold of the Prada top have weighed in…
"It's made of medium-lightweight cotton that's soft to the touch and slightly dense but utterly bereft of the elasticity you may expect from a contemporary undershirt."
A beautiful description by Highsnobiety's Jake Silbert, but even he agreed that holding it didn't feel like an ethereal, otherworldly experience that transported you to the softest of textile clouds the way a 1K tank top should – my words not his.
Maybe the lack of stretch in the fabric is the one thing that remains exclusionary about this particular luxury brand design. In some twisted sense, it's a way of taking the most basic and 'for everybody' garment in fashion possibly ever, besides something like socks maybe, and transforming it into the very opposite. An item that is neither accessible in price-point nor form-fitting, two of the factors that characterize a traditional tank top. Although sizing does run from an S to an XXL one can't help but wonder how a tank top that doesn't stretch would fit comfortably on bodies that are on the beautifully voluptuous side of life.
The Prada top kinda takes the practicality out of the garment. Which we guess could be seen as quite a distinctive attribute of orthodox luxury branding? By practicality, we mean achieving its main function which traditionally consists of being an undergarment that adapts to the body in a comforting fit. Mind you, nowadays, it's used interchangeably as a top, and not as an item that is worn exclusively under a shirt.
Could the sudden release of the Prada top have something to do with the viral Prada repurposed necklace?
We can't help but wonder if this was inspired by the very consumers. Remember that viral TikTok of a jewellery brand that repurposed a Prada bag into a necklace? Part of the virality came from the outrage of 'destroying' a Prada bag to make a necklace. Although Reluxe and Co – the culprit behind the crime of dismembering a designer bag – assured its audience that the bag was incredibly damaged and unfixable. Reluxe and Co has been repurposing luxury goods into unique pieces for quite some time. With their viral TikTok, they brought newfound attention to an element of designer pieces whose presence although imperative, isn't always front-stage and centre. The tag.
Could this be how Gen Z buys luxury?
On the one hand we have Gen Z's love for upcycling and their demand for a more sustainable fashion industry. On the other, we have a luxury label's tag as the certificate of a premium brand. Gen Z consumers have been avidly vocal about luxury buying behaviour they disagree with. Expensive shirts aren't cool if their production process is detrimental to the planet. However, expensive shirts, jewellery, bags, trousers, or any garments that are made with upcycled items are worth the investment.
Not only do new luxury consumers flex owning something from a premium brand, but they also flex its sustainability, inventiveness and originality. And what's more sustainable than taking something old and turning it into something new? It's all about circularity nowadays darlings.
Now the Italian luxury house hasn't done this with their Prada top to be fair. But they might have used it as inspiration seeing the traction its tag generated. And who's to say they weren't trying to take advantage of the accidental positioning they achieved among Gen Z consumers thanks to that viral TikTok?
This shenanigan might not be that outrageous nor that random at all…