She's the designer who is turning the fashion industry on its head with her innovative approach to sustainability and repurposing materials. Nicole McLaughlin. Remember her name, because it's becoming increasingly difficult to ignore. Her unique designs and ethical philosophy continue to garner attention and admiration from fashion lovers and eco-warriors alike. Welcome to The Next Vol.18: Nicole McLaughlin, Queen Of Upcycling.
But where did this creative genius come from, and how did she become the visionary designer that we see today?
Was it an accident or was it meant to be?
Born and raised in Massachusetts, McLaughlin was always drawn to the creative arts. But it wasn't until she began experimenting with upcycling and repurposing materials that she truly found her passion for sustainable fashion design. Nicole's skills are all self-taught, and perhaps that's the reason behind their singularity. She didn't even actively pursue fashion design. One could say it came about almost accidentally. A career path born out of circumstance, talent, resourcefulness, and a very good use of one's downtime we'd argue.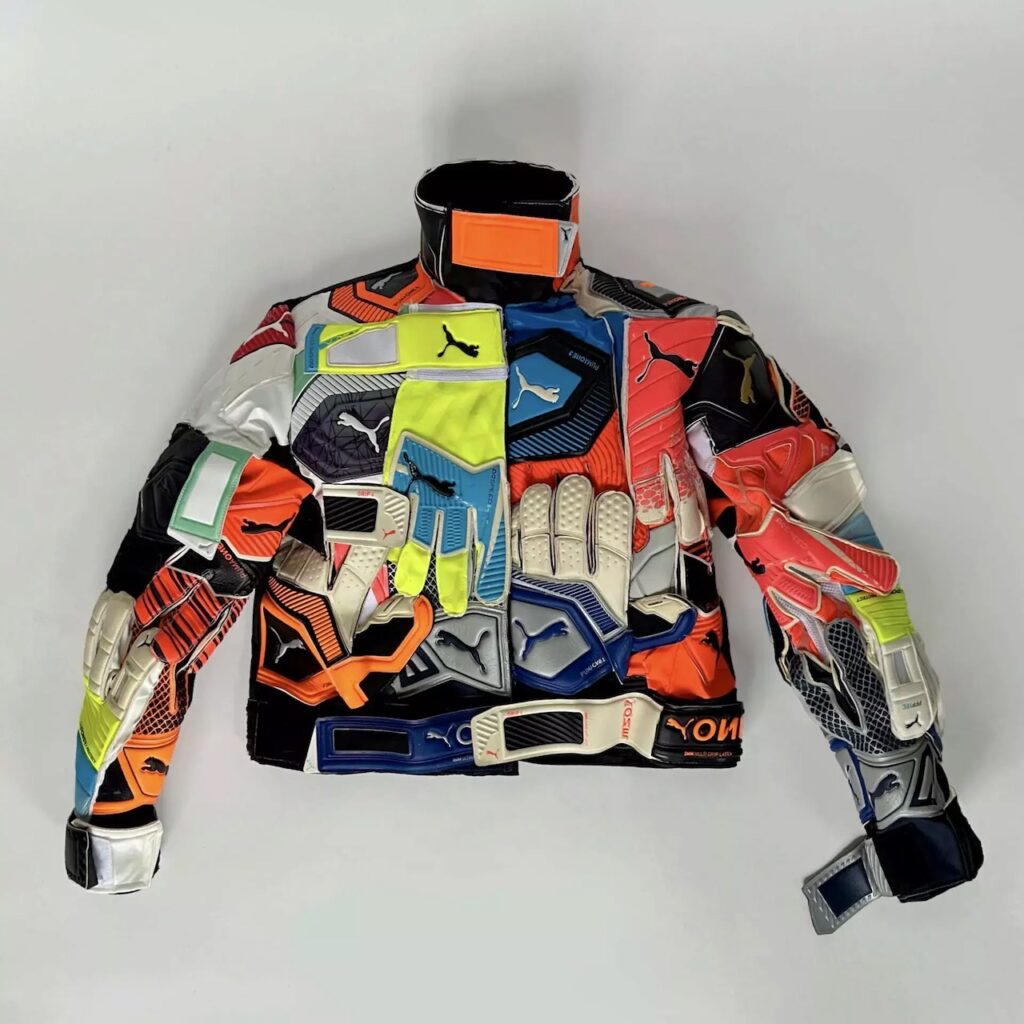 While working as a graphic designer for Reebok, McLaughlin witnessed the ugly side of fashion. She was rather taken aback by the materials and fabrics that ended up as nothing but useless leftovers. So being the designer that she was she began to gather spare materials wherever she could and figure a way to put them together one way or another. Her innovative and eye-catching designs soon went viral on Instagram, and now here we are. What began as a non-functioning tissue paper blouse stapled together, is now a fully-fledged career with a positive impact rippling across the industry.
Quite the example for those who might doubt their capabilities. Following her creative impulses led McLaughlin to a full-on career shift that landed her on the Forbes 30 under 30 list. To think that she's gone from including secret pockets wherever she can because Reebok used to forego pockets as a money/time-saving method, to designing her own iteration of the Club C Geo Mid trainer in collaboration with Reebok. Which, by the way… Yep, you guessed it, it has pockets.
Crafting Sustainability through Circular Design
Nicole McLaughlin is a designer who believes in the power of circular design to tackle the waste problem. Her self-taught approach to manipulating discarded objects and unconventional materials has resulted in a portfolio of quirky and eye-catching pieces. However, it's not just her creative design that sets her apart. It's her circular design philosophy that makes her work so unique and powerful.
Nicole's approach is all about making objects that can be taken apart and reused in future projects. In her world, nothing is wasted, and everything has potential. This is reflected in her creations, which often incorporate elements from a variety of sources, including household items, discarded garments, and even food. From croissant bralettes to charcuterie lingerie, Nicole's designs have a fun and relatable style that makes sustainability approachable.
Her work goes beyond using sustainable materials, it invites the audience to reflect on everything they consider to be trash, as well as our consumerist nature. Nicole demonstrates the potential for creativity and innovation in sustainability. By upcycling and reusing materials in her designs, she encourages others to think creatively about the waste they produce. McLaughlin's all about challenging traditional notions of fashion and consumerism. Her designs are a commentary on the fast-paced, disposable nature of the fashion industry, and the need for a more mindful and sustainable approach.
McLaughlin's approach to design is both creative and pragmatic, with a focus on functionality as well as aesthetics. She explains that "form follows function" in her designs, with each piece serving a purpose beyond just being visually appealing.
"There's so much potential in the things we throw away. We just have to be willing to look at them in a new light."
Nicole's right: We need to do better
Nicole McLaughlin is not just advocating for a more sustainable future, she's demanding it. She demands it with her work, and she demands it with her words whenever she has a chance to. These are the sort of creators that we need shaping the future of the industry. Creators who are showing household brands how it's done, since they can't seem to be able to do it by themselves.
Nicole calls out the fashion industry's need for transparency and accountability. Calling for companies and businesses to own up to the impact they have on the planet.
And she's not just talking the talk. With her work, Nicole is not only keeping the conversation on sustainability alive but also giving it depth and making it a learning space. Opening up possibilities of different ways in which sustainability can be applied. Moreover, her collaborations with industry leaders like Arc'teryx and Puma show she's putting in the work to impact the industry from within too. From jacket take-back programs to regenerative textile production, these brands are setting the standard for sustainable fashion. Nicole's passion for sustainability is infectious, and it's clear she's all about pushing for progress.
Innovation is key, whether it's through new technology or traditional craft techniques. "We need to keep the conversation going and build a community of change-makers who can inspire others to take action,". She knows change takes time, but she's optimistic about the future of fashion. And to be completely honest, with key players like her in the game, so are we.