Source: Hypebeast
Close your eyes… picture a skateboarder… Now tell me, what do you see? A slouched silhouette emerging from the urban shadows, baggy clothes, a beanie maybe, a glimmer of rebellion seeping through a pair of intrepid eyes… Something like that perhaps?
Skateboard culture used to be synonymous with anti-establishment, with breaking the rules, and a downright rejection of the mainstream.
Now skatewear is found not only on the streets, but also on the runways. The powerful aesthetics are incredibly marketable and in this day and age, relatable too. "The brands are looking for that dose of reality and transparency, connecting directly with the street and their style, through skaters who have gone from being in their underground bubble to being the faces of a new generation of fashion". Seeing collaborations like Supreme x Louis Vuitton is no longer shocking.
The style has even infiltrated the ranks of fast fashion, companies like Forever 21 and H&M, being quick to jump on the bandwagon of the skater vibe and literally steal the Thrasher typography to make a quick buck. Thus tarnishing the defying character of the brand, by using its own distinct style to appeal to the masses it has historically tried to set itself apart from.
This cultural appropriation doesn't sit well with many influential figures of the skating world. Thrasher's Jake Phelps is not a fan of celebrities who don't even skate flaunting his brand, which he vows stands for a big "FUCK YOU", a polar opposite of the people pleasing celebrity culture.
---
"If skating has given you some respite from a shitty life, then there's a lot of emotional connection to that stuff that can be taken for granted or overlooked," (by people who don't skate)
John Rattray for Esquire
---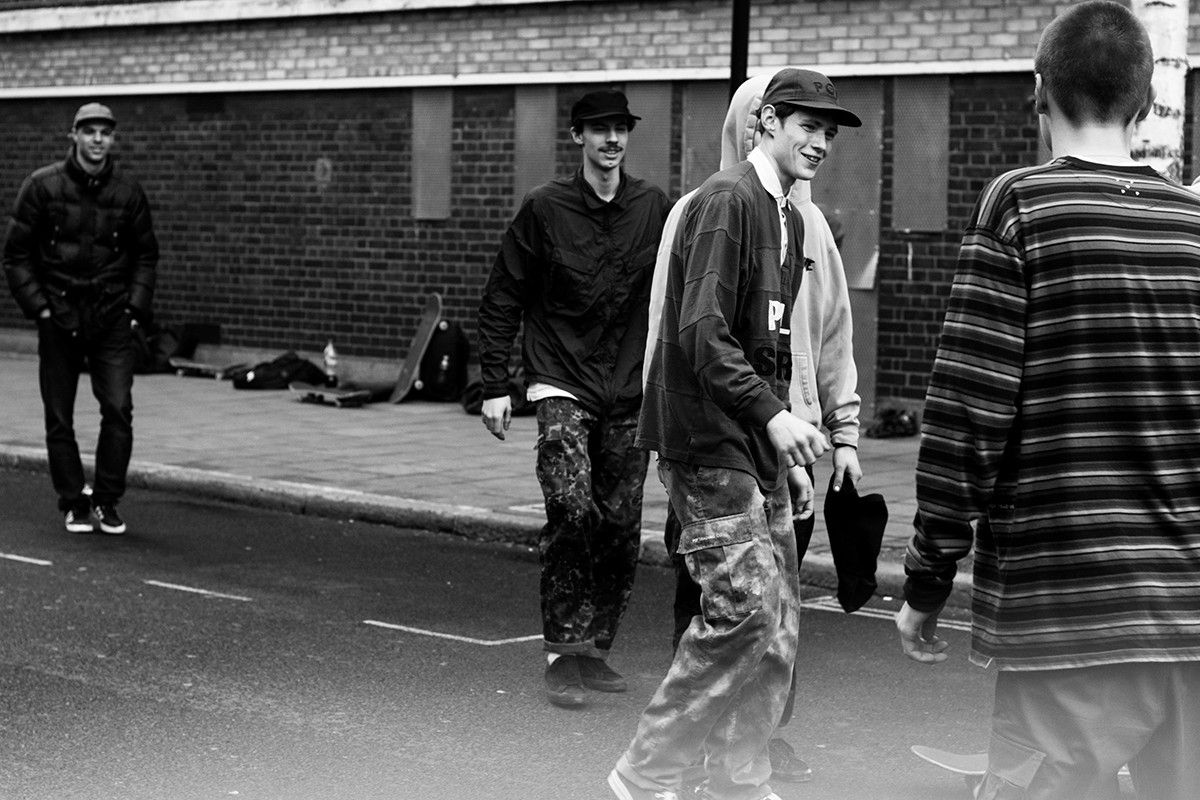 Source: Hypebeast
Counterculture ideas growing and being absorbed by the mainstream machine is a tale as old as time, original thought doesn't always come naturally to the overground. But now, skateboarding has been marketed to the extent that many believe it has lost its essence.
Moreover, the community that once homed outcasts is said to be permeated with misogyny and chauvinism. Could it be that in an overtly Orwellian fashion, the skateworld has become the personification of 'the man' it so fervently used to stick it to during its conception? After all, the "anti-sport" formerly characterized by its lack of rules, corporate structure, and costs, is the latest addition to the Olympic world, making its debut in the Tokyo 2020 games.
While the skateboard culture is not all lamppost light and roses as it used to be, there is hope still. We are experiencing a new wave of minority collectives and outcasts ride in like knights in shinning armour to restore the freedom-fighter feel to the community. Infusing the movement with new age vindicatory art whose purpose is more in line with that of the skateworld's beginnings. The fact that skateboarding culture has such a momentous visibility can be used as an advantage, while remaining faithful to its original principles.
Here are four examples of which have caught our eye, which we believe are well worth checking out:
"The Skateroom challenges the status quo of brand and corporate responsibility, and turns consumers into active contributors in socially engaged projects."
Source: The Skateroom
The Skateroom connects designers, artists, consumers, galleries, and non-profits in a new economic model: Art for Social Impact.
Last year they collaborated with artist Jenny Holzer in a collection of limited marble and wooden boards which had the suitably timed political message "IMPEACH" engraved on them. Now that's an elegant 'fuck you' if I've ever seen one, Jake Phelps would be proud.
Source: Highsnobiety
George Rocha is the brain (and the hands) behind Iris Skateboards. Rocha takes old unusable skateboards and creates wonderful pieces of art with them. Initially he focused only on skateboards but he now also manufactures furniture and art installations.
"The whole point is to take something that would have gone into a landfill and make it into something functional" – "What better destiny for a broken skateboard than to continue being a skateboard."
Source: Iris Skateboards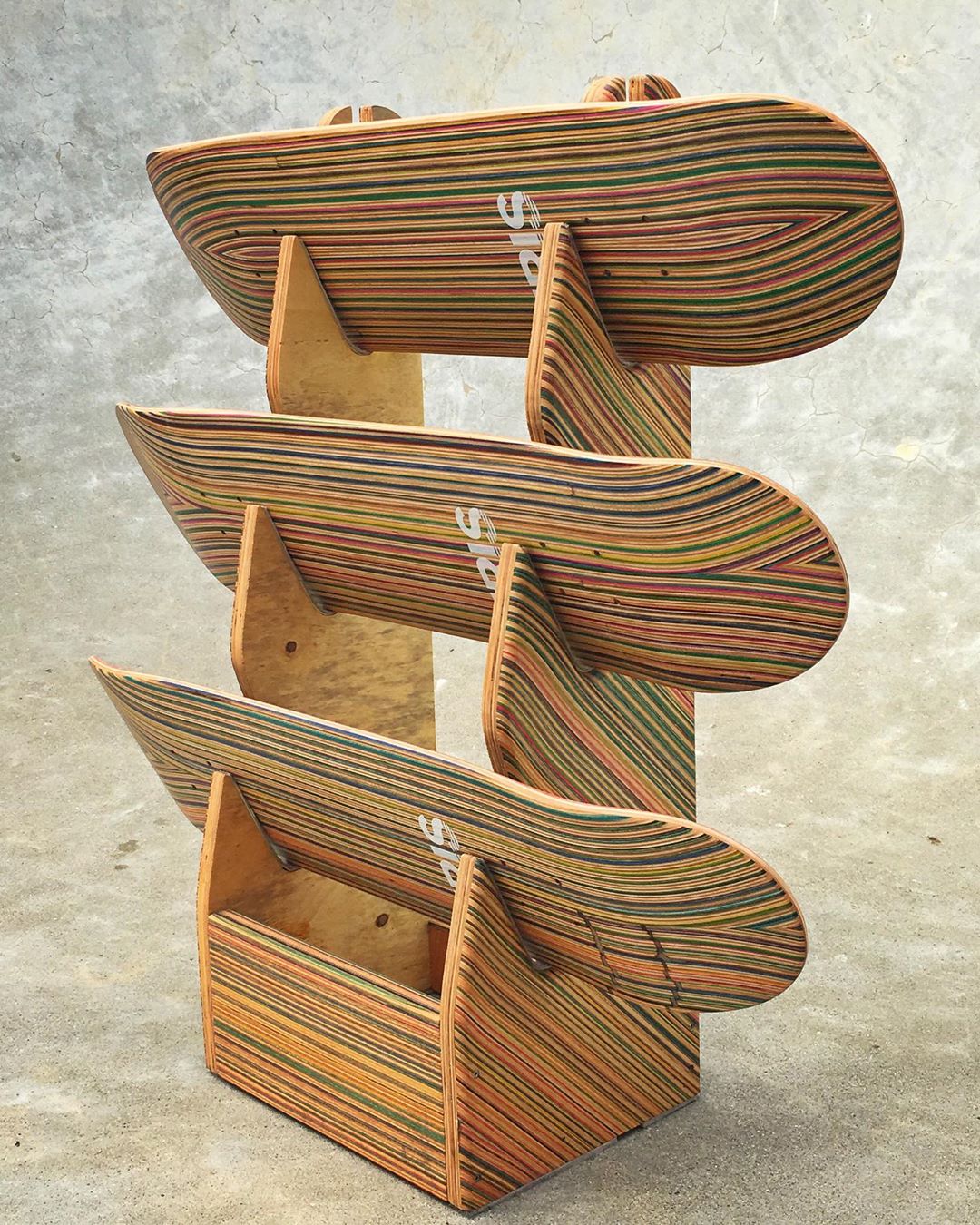 Source: The Daily Board
As a gay asian skater, Jeffrey Cheung felt he had to hide his queer identity in order to fit into the skating culture. For this reason he founded Unity, a collective which aims to give visibility and voice to queer skaters, in order to shift the historically normative narrative and create a space within the skateworld where queer people, trans people, and people of colour can feel welcomed.
"I can only hope that as long as we continue to support each other, we will never be completely pushed out."
Source: juxtapoz
Cheung hand-paints every single one of the boards he designs, many of which he gifts to queer skaters.
Latosha Stone is the artist behind Proper Gnar, the first skateboard company owned by Black women.
"I am so passionate about my role as a Black woman who challenges past assumptions and shows that skateboarding is for all of us. I take pride in creating authentic and beautiful art that stands out from other skate brands."
Latosha for becauseofthemwecan
Stone challenges the stereotypes with her artistic vision by appealing to young girls interested in skateboarding, ensuring that they feel represented and welcomed, a luxury she herself did not have when she began skating.
In conclusion, maybe skateboarding will never be the underground gritty movement it once was, but that doesn't mean that it can't still be a place of solace and welcome, a community built on purposeful rebellion and expression.
Whilst in the past art was born as a result of the skate culture, now art itself can be used as a vehicle to transform this community and guide it back to its roots. And the thing with mainstream trends is, they come and go. So once this happens, the future of the skateworld will once again be in the hands of those brave enough to paint it.