Ladies and gentlepeople, welcome this month's installation of The Next. A series where we point out some of our top picks for groundbreaking creative talent. We're just going to get right to it, shall we? Harry Nuriev: The Russian architect and designer who is making our dreams come true.
Now Nuriev might not entirely fit our usual The Next profile, it is clear that this huge talented has already tasted vast amounts of success. Nevertheless, we do get the feeling he might reach Demna-level influence in the near future.
The reason we're bringing him up now, however, is we've been quite taken with some of his latest work. Work which, in our humble opinion, might just have taken him from an already fantastically talented creative, to one of the leading creative minds that will blaze the trail to the future of contemporary culture.
Do we sense a hint of Demna in the air of Nuriev?
One of his most recent artworks 'Trash Bag Sofa', unveiled in Design Miami, definitely reminds us of the direction in which Demna has been steering Balenciaga over the course of the past few years. While Nuriev might not have explicitly delved into the fetichism of money, with his 'Trash Bag Sofa' Nuriev sought to instil a reflection in the mind of today's consumer: Do you really need or even want that thing you're going to buy next? Or is it simply going to end up in a trash bag? It is no secret that the contemporary consumer culture is at the epicentre of quite a few crises, sustainability to name an example.
Moreover, apparently, when sat on the sofa did not emulate the texture, feel, or sound of a trash bag. Rather it has a leathery feel. Thus creating quite an interesting dissociation between the audience's visual takeaway, and the object's actual reality.
Nuriev's reverse metaverse move: Video game furniture
Now we've all seen brands enter the metaverse and integrate their products there. But, have we really seen a brand bringing the Metaverse into the real world? Harry Nuriev has. First with his collaborations with Gaia Repossi in Paris, 'Web-3 Cafe' in March. Later in May, Crosby Studios unveiled its video game-inspired installation at Mooi in NYC.
'Web-3 Cafe' challenges the perception of colour and space, the pixelated single-coloured tables and stools instantly injecting a shot of 90s nostalgia into our subconscious. There was more to look to this cafe, it was actually a fully functioning cafe where one could enjoy a vegan snack and matcha. On top of that, customers could take look at Repossi's AR jewellery collection. Quite the experience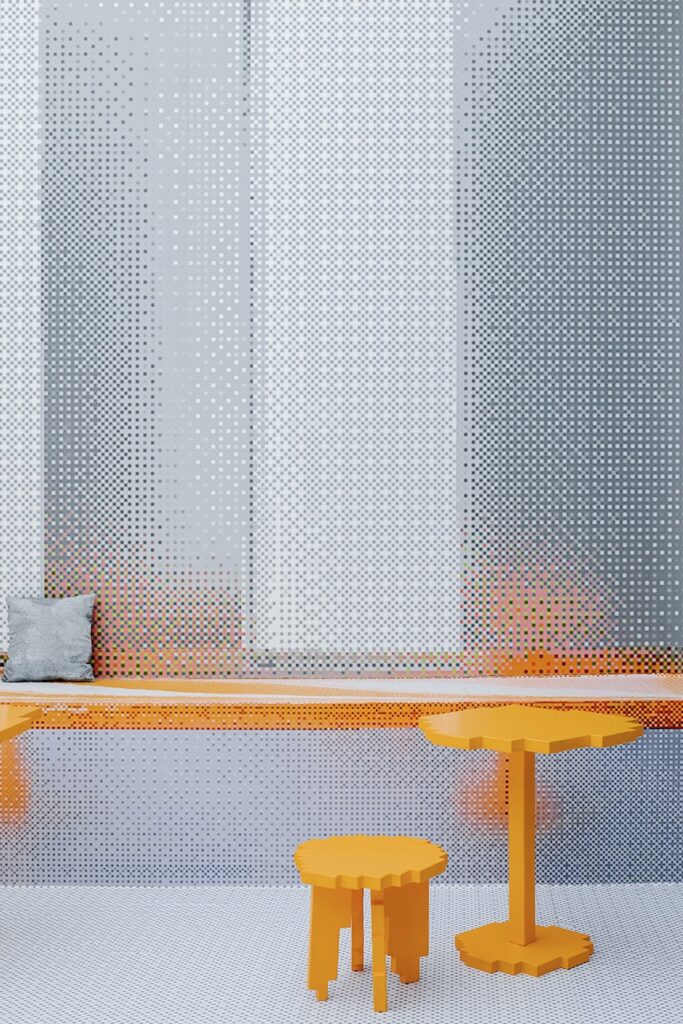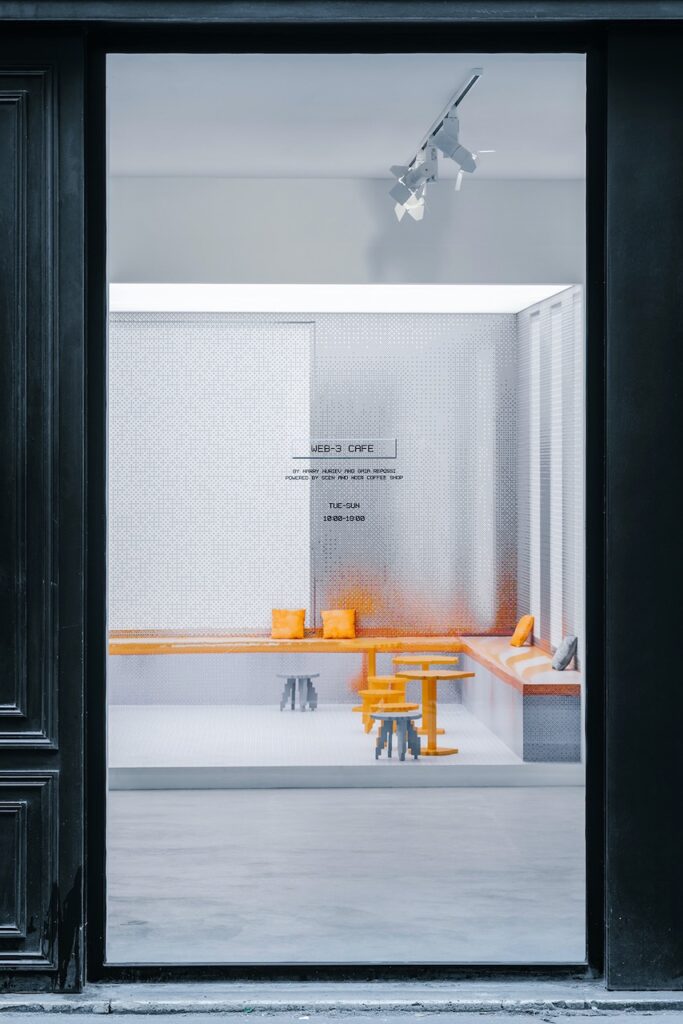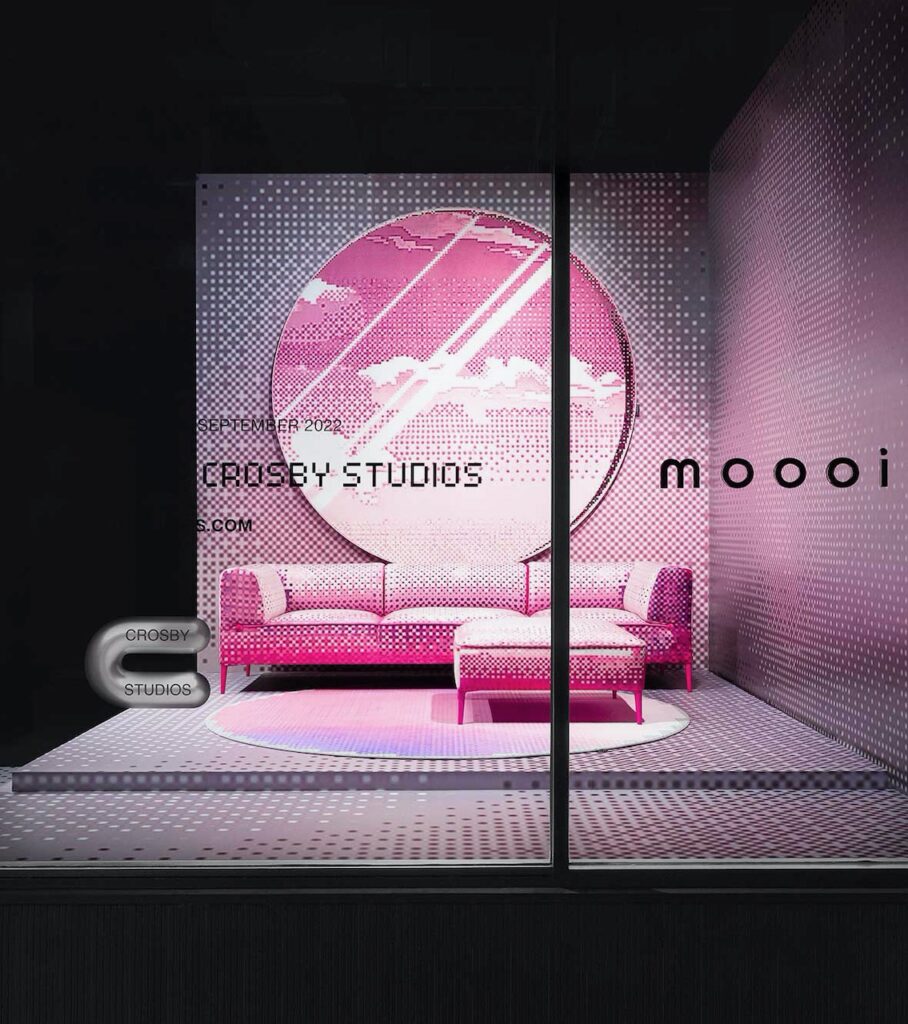 Interestingly enough, Crosby Studios' Mooi showcase takes a different approach to pixelated furniture. Rather than physically pixelating the shape of the furniture, the Mooi installation features a Sofa So Goos three-seater and a footstool upholstered in a pixelated pink print, as well as a pixelated rug, pillows, and walls. We once again encounter this dichotomy between what our eyes can see and what our skin might feel, as the seeming image, digital in appearance, is, in fact, made out of velvet. The sofa, pillows, and footstool are anyway.
Nuriev is undoubtedly shaping contemporary culture.
As an artist, he truly has been demonstrating an excellent understanding both of contemporary culture as well as where it's headed. Making waves with his poignant message and avant-garde vision.
Mark our words, Nuriev is the next Demna of architecture. His influence will only grow bigger. His work will mark a turning point in architecture and design. Not just bridging the gap between past, present, and future, but rather completely obliterating the boundaries between the three. Creating a melange of what was, what is, and what should be.