A few decades ago, the indisputable title of skate city would have gone to San Francisco probably, perhaps Los Angeles. After all, skate culture is said to have been born right there. But as the sport itself evolved and expanded, thus embracing diverse forms of skating that didn't focus solely on huge ramps or empty pools, so did the locations of choice. Skate culture travelled from outside the city limits towards the urban territory. Cities were no longer places you travelled from or through in order to reach the best skate spots, and California ceased to be the sole referent for skate culture. The global skate landscape transformed, and skaters began to be able to access the skater subculture in their own localities. All of a sudden we witnessed the emergence of new skating hubs worldwide, cities like New York, Barcelona, and Paris.
As a matter of fact, Paris has become one of the best skate cities out there. We would go as far as saying that skateboarding Paris is a dream. Forget about the French capital being the city of love, how about the city of skate?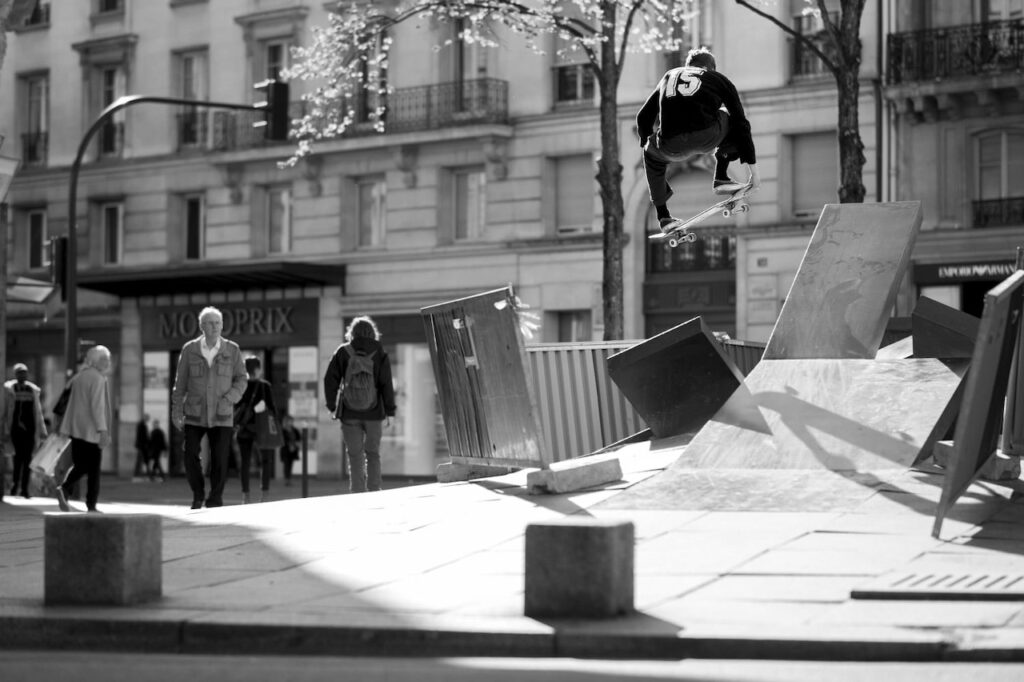 Some may be surprised as to how a metropole known for its haute couture and upper class become iconic in the skater subculture. And yet Paris is also the city that birthed the revolution and the Nouvelle Vague. Taking this into account, doesn't it make sense for it to become the European ville de skate? Doesn't it make sense for it to be considered among the best skate cities?
Why Paris has become one of the best skate cities
As we said, the shift from vertical skating to street skating played a major role in making Paris one of the best skate cities, but it's not the only reason. There are many factors that impact whether a city can become a true skate city or not. Of course, the terrain is key since it's literally what you skate on so a city such as Canterbury with cobbled streets won't do great in that department. Still, other elements such as community, culture, and legality are crucial too.
The terrain: One of the best things about skateboarding Paris
Paris is small, walkable, and accessible. Everything seems to be within reach. More importantly, according to many skater forums, it has some of the smoothest sidewalks around. This makes riding from place to place much more comfortable than in many other cities. On top of that, Paris' awe-inspiring architecture makes for quite the stunning backdrop while filming skate videos, which are a huge part of the skater subculture.
Doesn't an epic jump shot look that much more unique if it's in front of the Eiffel Tower?
Not to mention places like Espace Glisse Paris 18, the largest skatepark in Paris, quite literally a skater's paradise with 3,000 m2 of skateable areas.
Moreover, Paris' location makes it easily accessible to skaters from all over. Being right in the center of Europe means you can travel to it pretty easily by train or plane or even bus from any other major European country.
Skate culture Paris: Open Arms
While not all cities are welcoming to skaters, Paris is. A city which is so densely populated can't help but be vibrant and energetic, full of art in all its forms, as well as life. Culture of all walks of life is present in Paris, it's palpable. So is art.
With the recent rise in streetwear to the highest spheres of fashion, skate culture and the skateboard style have become even more readily embraced by the city with a great deal of the youth one might find on the streets looking like they're about to hit the closes skate spot. More and more skate shops have been opening up in the French capital: Nozbone, Day Off, Odilon, Snowbeach… All of which feed the hungry Parisian skateboarding culture.
Legality has always been the enemy of the skater subculture: Not in Paris
Many cities not only lack public spaces habilitated for skating, but they also prohibit skateboarding on the streets and in many places around town. Paris on the other hand has opened up spaces around the city specifically so that people could skate. Embracing and boosting the sport, acknowledging its positive impact on the community.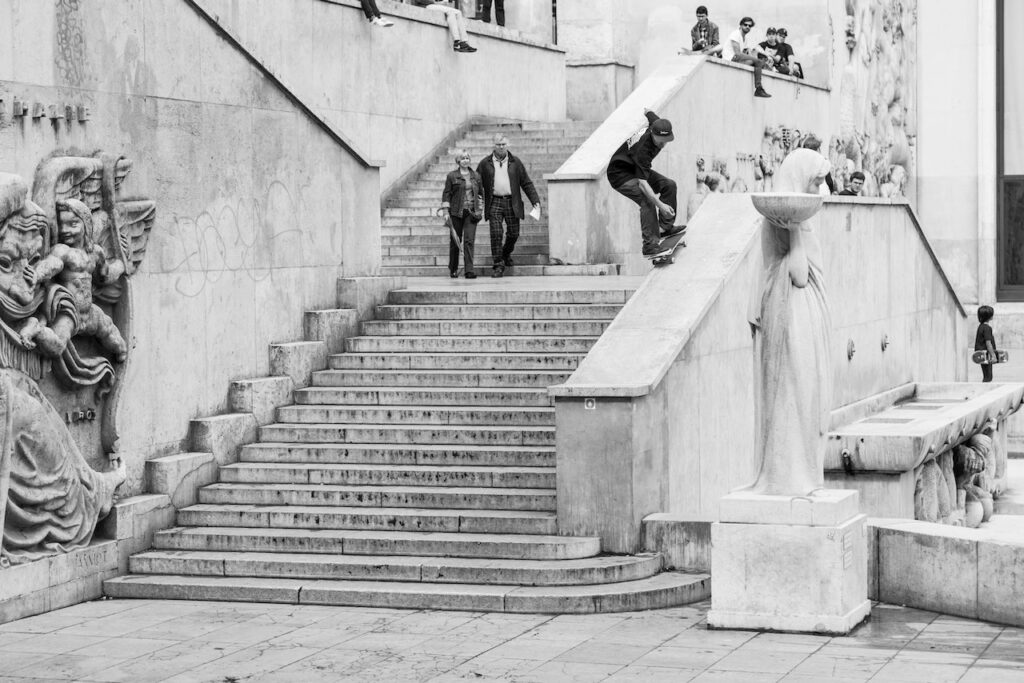 Paris has amazing spots that actually welcome skaters. Places where the police won't come and kick you out like they would in other European capitals. Places like Le Dome, La Défense or Trocadéro gardens are frequented by skaters daily.
A few years ago the French capital collaborated with the skate brand Volcom to create an obstacle course at Place de la Bastille over the summer. Such was its success that it lead to the rebuilding of the Place de la République where more skateable obstacles were installed. Place de la République has now become an iconic Parisian skateboarding spot, and is featured in countless video productions.
This is only the beginning of Paris as the reigning skateboarding city
Rumour has it this isn't the end of it, Paris plans to continue its plans to expand skateboarding spaced around town over the next few years, solidifying its title of European skateboarding haven.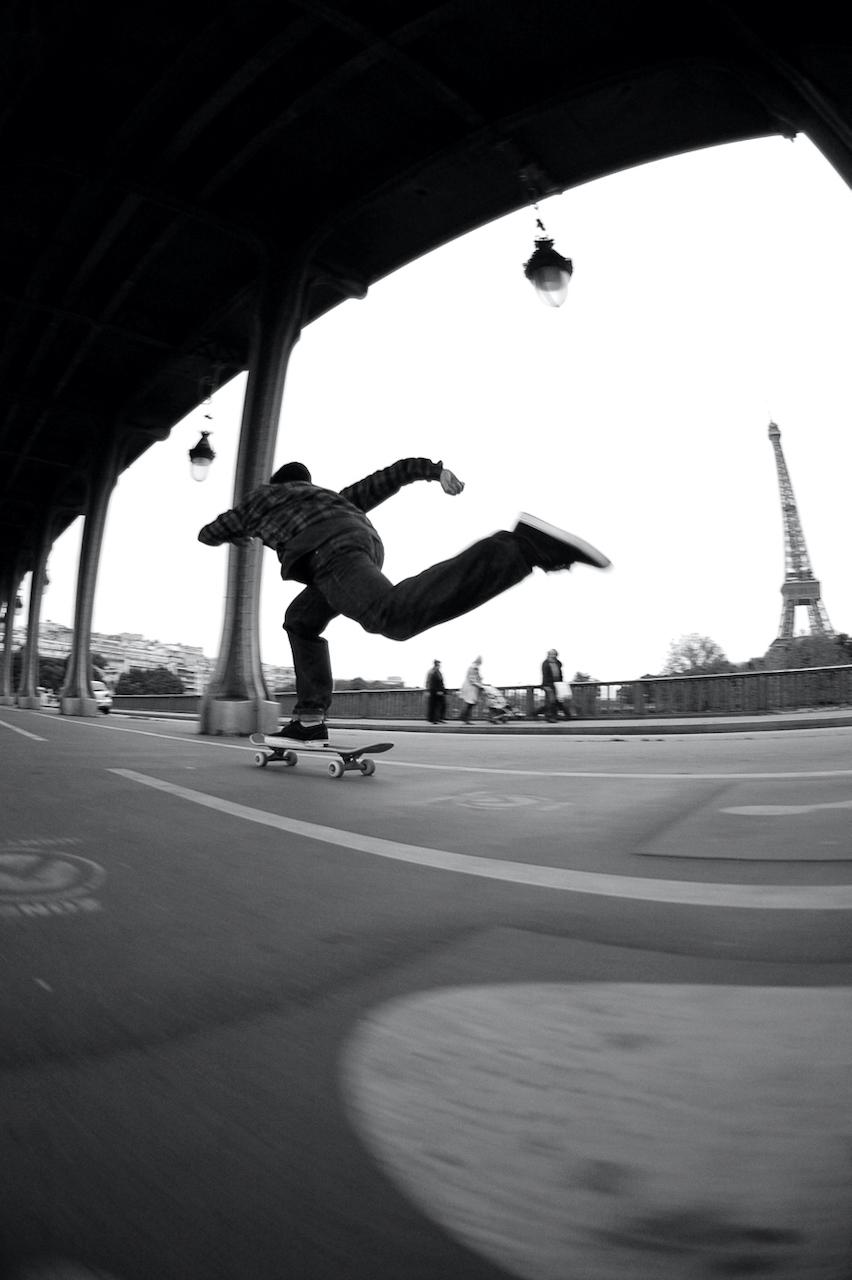 [ays_poll id="12″]