ONRUSHW23FH: The Barcelona-based design-focused, avant-garde fashion brand that tests the boundaries of design artistically, philosophically and physically with its pieces. If you don't know it you should.
The brainchild of designers Albert Sánchez and Sebastián Cameras, ONRUSHW23FH is a resounding success that has been championed by creatives and entities alike across all industries. From Vogue to Rosalia, Emma Chamberlain to GQ, Nathy Peluso to neo2, it seems like everyone wants a piece of ONRUSHW23FH. And we're not surprised. Hell, we wanted a piece ourselves but basically, everything on their website is sold out!
It's no wonder our curiosity peaked, and the questions poured in. So we did what we always try to do when we have an itch we can't scratch, we find someone who can. Straight from the horse's mouth, it's ONRUSHW23FH.
Have you always been inclined towards fashion as a form of self-expression?
Yes sure, we truly think that fashion is a contemporary reflection of our society nowadays. It's a form of self-expression now that the world is changing year by year faster than ever. Also as creatives, it is the way we know how to express ourselves and how we perceive not only things but our environment.
Where does the name ONRUSHW23FH come from?
It comes from a fun fact that we were always late to handing in projects at uni and then we decided to use ONRUSH as something that represented our relationship with Fashion Design, then W23FH is a flight that we missed and then had to take a really long and thought trip to go back to Spain since we were in Brussels and there were no planes.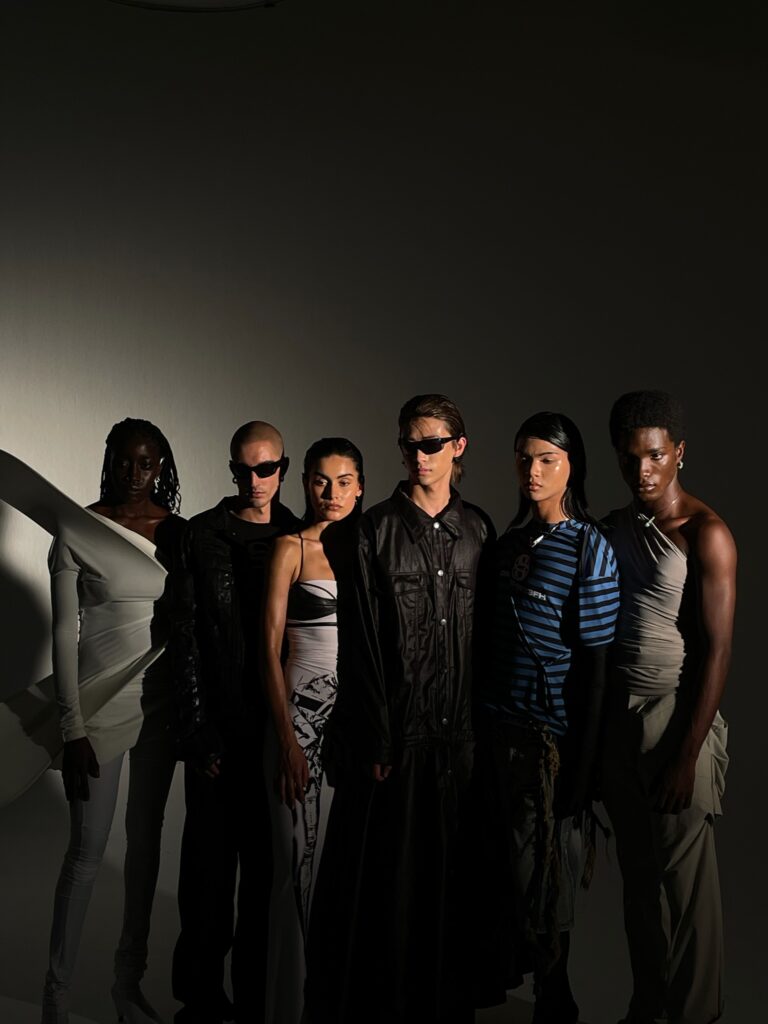 ONRUSHw23FH is quite avant-garde. How do you think that plays in with Spain's fashion scene and does it differ from where it fits in the global fashion scene?
The way we are perceived in and outside of Spain is definitely different. As mentioned, Spain has a more commercial approach which might be the reason why our main audience is from outside Spain, outside Europe even. Nevertheless, we are extremely thankful to everyone who has supported us along the way.
What role do you think fashion plays in culture nowadays? And where does ONRUSHW23FH fit in this context?
We believe fashion has always played an important role in culture. It has always been a reflection of the world or at least the interpretation of whoever is in the fashion industry at that precise moment. However, we do believe that nowadays the existence of fast fashion has had a negative impact on the fashion world as we have known it in the past, due to the fact that some people seem to have lost the capacity to appreciate all that is behind a simple garment.
As for ONRUSHW23FH, just like we stated in previous questions, what we are trying to do is to let people inside our perception of things and society right now, not for a specific purpose but just as a way of expression to whoever may be interested.
Would you say that the brand's name is indicative of how you work? How does the rush of doing something last minute impact your creative process? Is it true that the best work is achieved under pressure?
It is indeed somehow indicative of the way we work. We are both really good at working under pressure, it somehow helps things to get done faster. We believe the rush can have both positive and negative effects on our creative process. On the one hand, it can lead to really exciting results, unexpected even. That is, of course, if you know how to work under pressure. But on the other hand, it can also mean that you might not have enough time to experiment or go deep enough into something that you might be really interested in. We guess it is a very personal choice but if we are honest, working under pressure or with short deadlines is really exciting for us and has always proven to end with good results.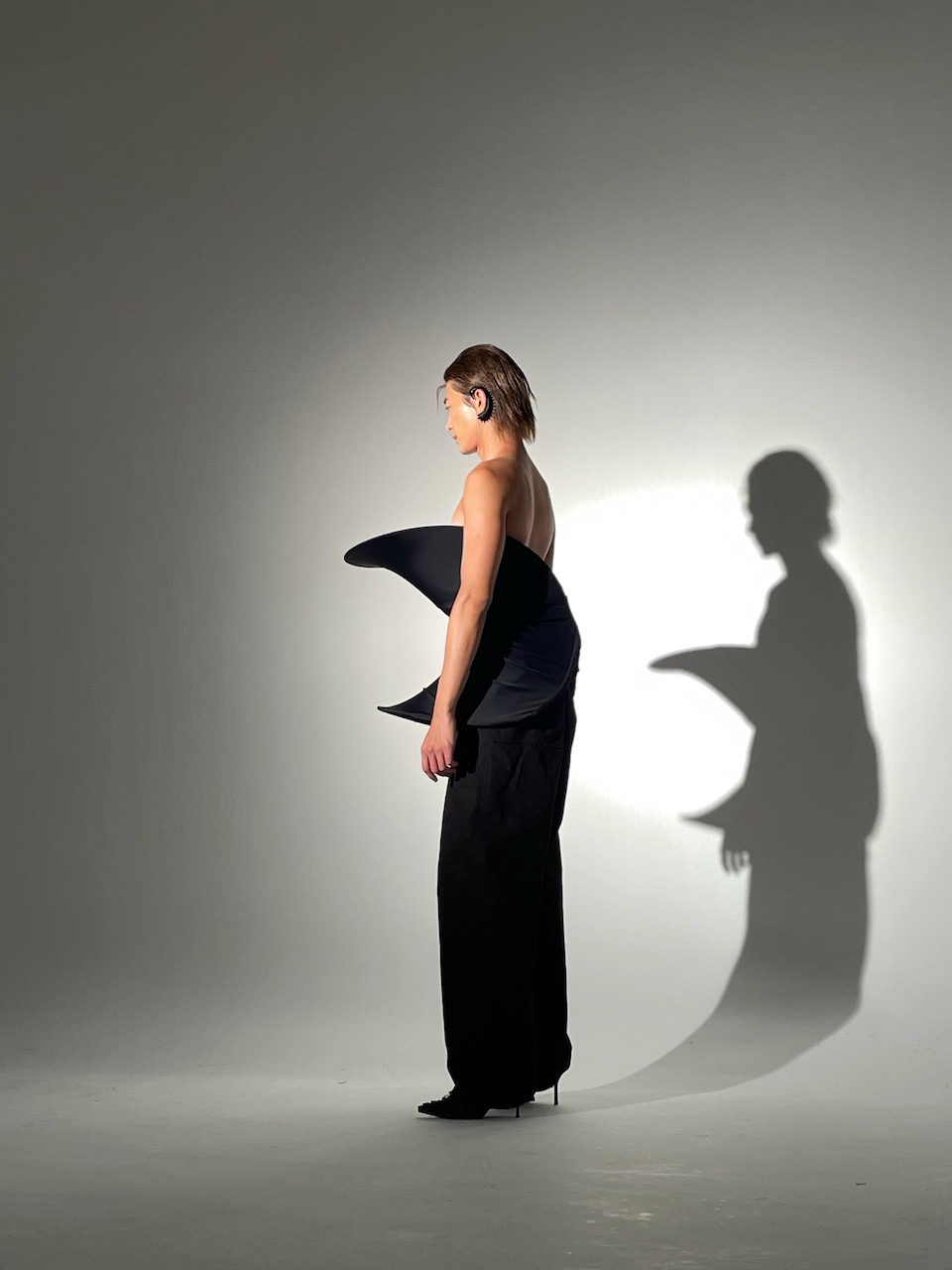 Tell us a little bit about your creative process, how does a collection first come about?
Our creative process is chaotic and changes every time. It really depends on how we are feeling or what is it that we want to talk about at that precise moment. Normally it starts off with a huge brainstorming session of all the things that we feel are inspiring including artists, poetry, books, movies, etc, and building a huge mood board around it. At the same time, we like to try things on the mannequin or maybe on photoshop which we then add to this mood board. Little by little the collection starts to have more sense until we have the final result.
What are some of the favourite pieces you've ever designed?
One of the pieces that we love is the Twirl Jeans, it has become a really recognizable silhouette from the brand and then with the development of the Twirl Skirt we have upgraded it to the next level. But also, all the structured shapes with the fibreglass are something that we love exploring because it always gives different and exciting results.
Some pieces of your collections look like they are ready-to-wear, for others one might have a little trouble walking in them down a crowded street. Do you think some pieces belong on the catwalk and in magazines but not on the streets? Do you design pieces with wearability in mind?
Throughout these two years that we have been part of the industry as an emerging brand, we have learnt that wearability is something that should be definitely kept in mind while designing for a more commercial purpose and in the end that is the way a business is sustained. Nevertheless, we really stand behind the statement that fashion was never meant to be comfortable but that it also can be worn by whoever and wherever that an individual likes, and for example one of our structural pieces was worn by an amazing woman to a festival so we guess that in the end that is not our choice, but the consumers'.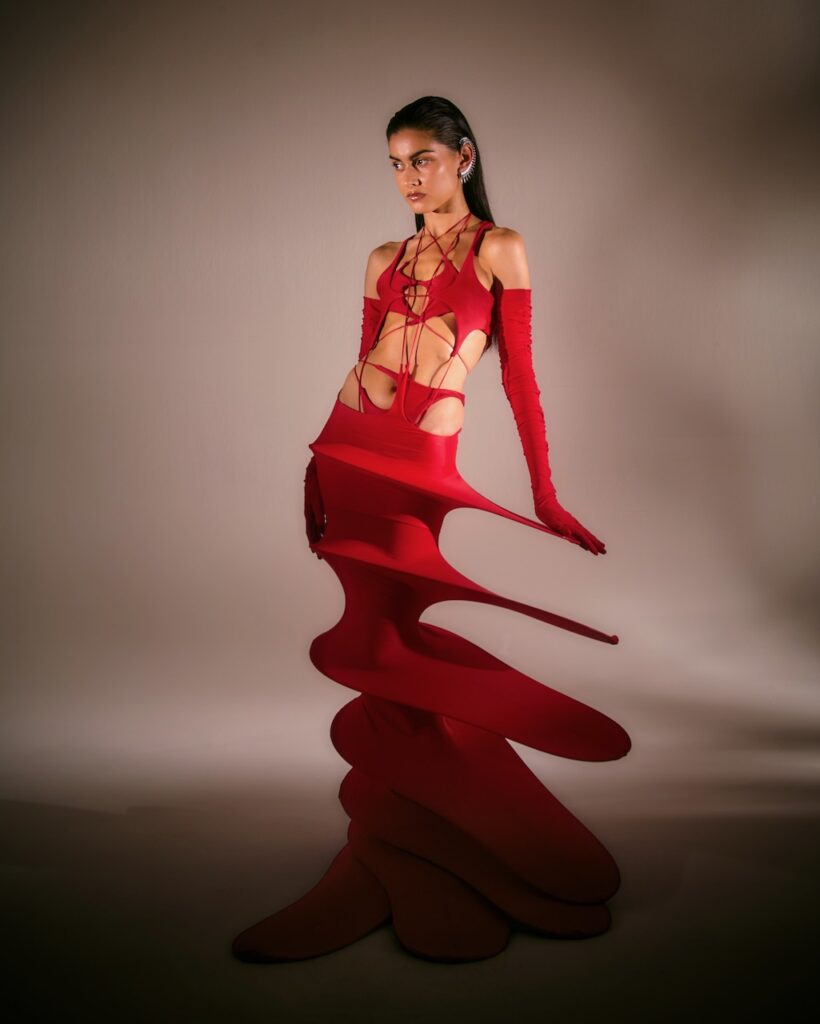 ONRUSHW23FH is genderless and timeless. Do you think the gender binary no longer has a place in fashion?
We think gender is not something we should be discussing anymore so we won't make any statement regarding it.
There is only one garment that isn't sold out on your website, will you be restocking or will we live to get anything new in the near future?
We are not going to lie, we are super happy to have everything sold out on our website. We have not restocked them because we are preparing a better way of working regarding the commercial side of the brand. As well as preparing our next drop that will have pieces from the latest collection we presented and some of the most wanted pieces like the twirl skirt, which will be dropped really soon. So stay tuned!
What are some of the goals that you wish you achieve with ONRUSHW23FH in the next 5 years?
For this project, we would love to become a brand with a place in the fashion industry and work on something we admire and in the end, what we studied for. Seeing ONRUSHW23H among the best international stockists would be a dream too. Also, this project started with the support of our friends so we would love to continue like this and have a studio with our loved ones and the people who believed and believed in the project from minute 0.