As a fashion brand in 2021, if you haven't hopped on the sustainability trend you're doing something wrong. Then the are some brands, who take sustainability a step further, like Pangaia.
If you haven't heard of Pangaia yet, it's basically the go-to brand in regards to environmental- and ethical practices.
With loungewear having boomed during the covid-19 pandemic, it has become a staple presence in the wardrobes of many. Pangaia was able to be one of the brands leading the charge during the pandemic, and ended up making upwards of $75 million in the year 2020. Not bad for a period of time where most businesses were hit hard, to put it lightly.

Source: Arquitectura Diseno
The brand is a materials science company on a mission to save our environment, creating essential products making use of innovative tech and bio-engineered materials.
They call their collection 'wardrobe essentials' with a range of bio-based, recycled fibres, and advanced proprietary materials like FLWRDWN™, a down-fill material made using a combination of wildflowers, a biopolymer and aerogel
What makes Pangaia so special is that they allow you to make sustainable choices, without needing to sacrifice looking like an absolute bomb while doing so.


Most recently, they released a new capsule dubbed PANGAIA X AIR-INK®. The collection designed by Jenke Ahmed Tailly, takes air pollution and transforms it into something wearable.
We can already hear you think; "What?!" But yes, THEY CAN REALLY DO THAT.
Together with Gravity Labs, creators of AIR-INK®, the collection uses PM 2.5. particulate matter, one of the most damaging parts of air pollution. This is captured, cleaned, and transformed into a pigment which replaces carbon black. This in turn becomes a safe water-based printing ink, used for the brands signature prints.

Source: Pangaia
The collection they recently presented, includes Pangaia's signature hoodies, t-shirts, and track pants, which have become insanely popular over the last year and a half. What makes these pieces even more sustainable, is that they're made out of recycled cotton.
Jenke Ahmed Tailly is also the one behind a visual series of photographs and videos, showcasing the collection. The campaign was dubbed "Just Like Ink" and was shot in Lagos. The wold-famous model and philanthropist Naomi Campbell is featured alongside Kezia Jones, a Nigerian musician.
Check out some looks from their new collection below, and check out their webpage and Instagram while you're at it! If you know what's good for you, you'll be donning your very own Pangaia pieces in not time.

Source: Scandivian Mind


Source: Scandivian Mind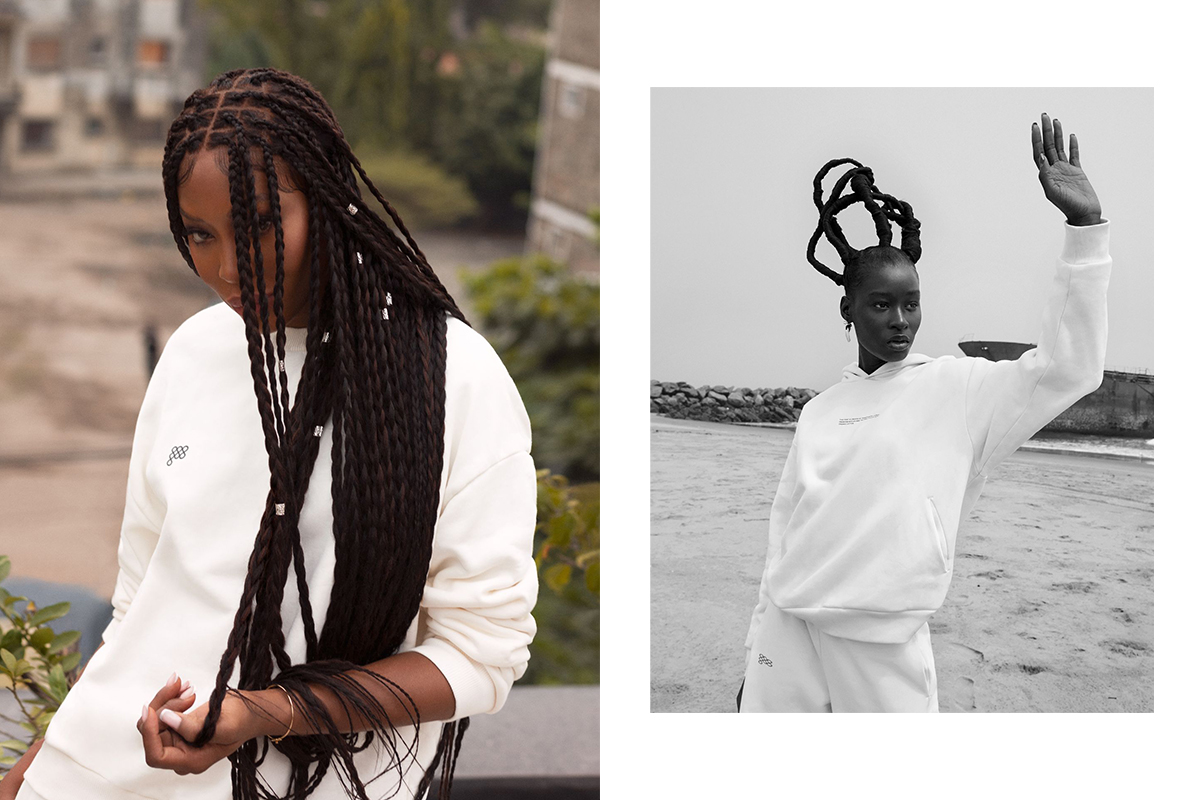 Source: Russh