It takes a certain type of skill to appraise the past and bring it into the present. Too many times have we seen reinterpretations of the past that somehow completely miss the mark and utterly butcher something classic. This occurrence is quite present in the art of fashion. Designers constantly borrow from history to produce their creations, be that through silhouettes, fabrics or craftsmanship among many others. Some borrowings are more common than others, after all, trends are cyclical and we are constantly witnessing the resurgence of previous eras in contemporary fashion. Still, there are elements that not everyone can pull off, and not all techniques, fabrics or styles are as easily replicated and uplifted. That is until the right designer comes along and blows us all away. This is the case with Antonia Schreiter and knitwear. Yep, you read that right, knitwear. How could we not make Antonia Schreiter this month's The Next if she changed the way we view knitwear all together?
Antonia Schreiter has earned the respect of the fashion community with her eponymous label. Based in Berlin, the designer graduated from the University of the Arts in 2018, catching the eye of the industry with her Fall/Winter menswear collection. So much so that she earned herself a FASH 2018 nomination and took home the absolute Prize for the most creative collection at Italy's International Lab of MITTELMODA competition. Talk about a triumphant graduate entrance into the fashion industry.
Antonia Schreiter elevates knitwear
Working primarily with traditional tweed and wool, Antonia Schreiter seeks to recognize and cherish the history of garment tailoring through her work. Every single item is hand-crafted with the idea of infusing value within the piece itself, and it shows. The dedication and time that go into the individual pieces as far as both the design and the production processes are concerned are of the utmost importance for Schreiter.
While Schreiter's technique is impressive, what we are clearly taken aback by is the end result. Why? Well, you don't expect sportswear to be made out of crochet. It's a clash that somehow works, and it works well. Aesthetically intriguing, yet pleasing nonetheless. Classicism and modernity combined in one. Which is precisely what the designer intends to do.
Connecting the past and the future with crochet
Antonia Schreiter plays with time with her collections. It's almost as if every time her garments are on a runway, they are blazing the trail of their own contemporary existence with every step. Something as old-fashion and out of contemporary character as knitwear is being used to illustrate the present.
Now, we know what you might be thinking, the use of knitwear is nothing new, it's been seen on the runway before. And you might be right. Still, knitwear has often been used as an integrated element of a larger piece, or at most the chosen fabric for a specific collection. It is rare to see it front stage and centre time and time again for a label, particularly employed to construct pieces of the style that Antonia Schreiter presents. The contrast it creates is alluring, to say the least. Traditional craftsmanship combines with colourful and youthful playfulness. Expressive and fun, rooted in historically rich techniques.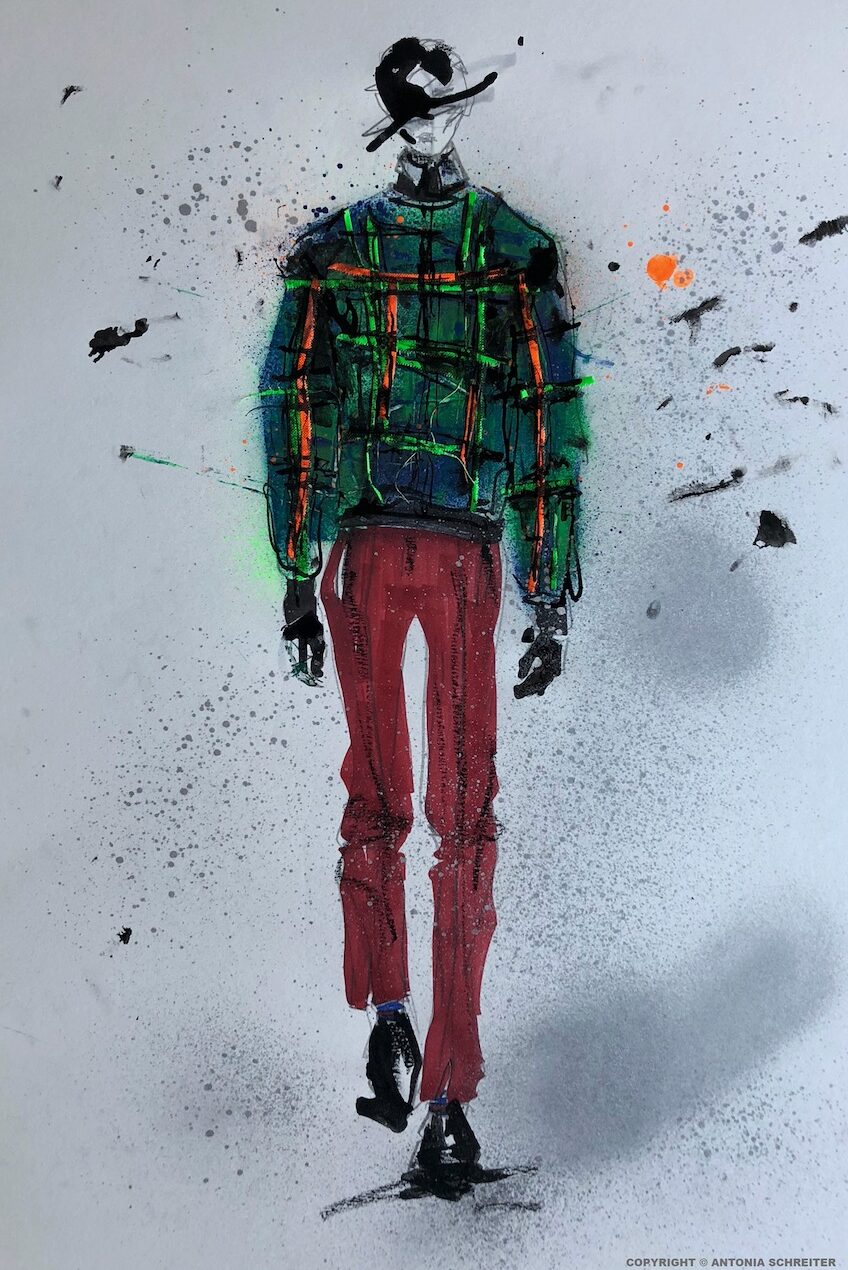 Sustainability as standard practice, always.
Sustainability means not only inventing new reusable materials, but also to look back on what has been available for years and to combine it with something new.
While we are always on the lookout for new innovative techniques to push sustainability forward, sometimes it simply boils down to the fact that less is more. Literally. Antonia Schreiter makes a point to using materials wisely. This means that the production process is carried out carefully and conscientiously so as to minimize waste production. Moreover, her collections are often made out of deadstock fabric and leftover materials from previous creations.