They say that when you want to manifest something you should do so by imagining it via "I have" rather than via "I want". You are telling the universe that whatever it is you want, belongs to you already.
Antonio Vattev knows this well, and that's exactly what his new SS22 collection Soul Control is all about. You could say it's a sort of "dress for the life you want, not for the life you have" kinda thing. With his latest collection, the talented designer sought to reward the public with the gift of the perfect uniform as we step out back into the world after secluding ourselves in our homes for almost two years.
Under his eponymous brand av vattev, the Bulgarian designer contemporizes the past and explores the future, drawing particularly on perennial 70s icons such as David Bowie and Grace Jones. As a result, Vattev's work is often permeated by an optimistic camp vibe that plays with bold patterns, shapes, and lines. The signature diamond and diagonal cuts, folds, and fabric combos reminiscent of the numerous V's of his own name are ever-present throughout his's collections.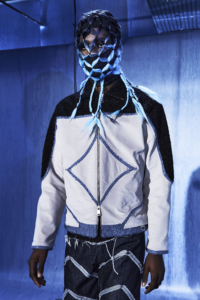 Photos courtesy of av vattev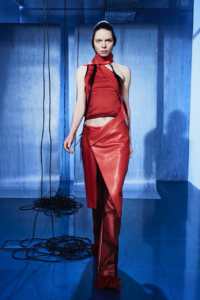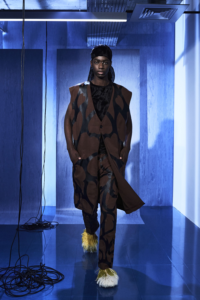 Vattev has managed to pin down that Back to the Future aesthetic, one wouldn't be surprised if the Bulgarian designer was a modern Marty McFly himself. Dare we say he is in fact visiting from the future and showing us where the fashion industry is headed?
av vattev is The Next in fashion, just you wait and see
With only two years in the industry, av vattev already seems to be blazing the trail of contemporary fashion. Not only because of the designs that he creates but rather due to Vattev's ability to craft a whole experience that caters to its audience's senses. Each collection comes with a story, and music and culture, play a big role in bringing the designer's collections to life. It's easy to see that av vattev is more than just a clothing brand, it's a community of like-minded individuals. It's the Bulgarian designer's manifestation of his universe.
THE WHOLE CONCEPT BEHIND MY BRAND IS TO CREATE MODERN BUT TIMELESS GARMENTS. WE WANT PEOPLE TO EXPERIENCE ALL OF THESE ELEMENTS THROUGH MY BRAND RATHER THAN JUST A SINGLE CLOTHING PIECE.
Moreover, the Bulgarian designer makes a point to integrate sustainability into his philosophy. As such, 90% of the collections reply heavily on zero-waste techniques such as the use of deadstock, organic, and upcycled materials.
Here at TNC, we couldn't miss out on the chance of speaking with Antonio Vattev himself, if only to try and figure out what it takes to be "The Next".
IT'S NOT ABOUT WHERE YOU TAKE THINGS FROM, BUT WHERE YOU TAKE THEM TO.
How did av vattev come to be?
I was lucky enough to get a job as a designer for Saint Laurent during my placement year at Central Saint Martins. The job was amazing and I couldn't be more grateful for the opportunity to learn first-hand how a big, established company with rich history works. In the end, I decided to come back to CSM and finalise my education, straight after my graduation I just decided to develop my final year collection and give it a try.
Your new collection is a "spiritual successor" to the previous one, can you tell us more about the spiritual concept behind it?
At this point, I want to develop a signature style and vision for my brand. Because of that, I decided to develop a few strong styles from my previous work in a new way. To me, the spiritual concept is when you have a recognizable and personal style, vision and point of view. We talk about the whole vision of the brand, not just garments.
How are you expressing your own spirituality through fashion in your brand, and in your own style?
My goal is to express myself, gain knowledge in different areas, research and find inspiration through new stuff every season.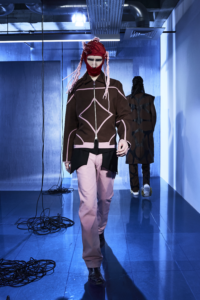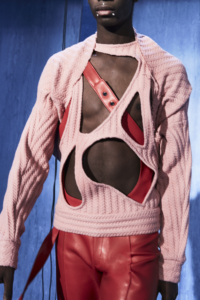 The name of your new collection is Soul Control, it sounds a bit like a paradox to us, what's your idea of living in control vs freedom?
I believe that if you take control of yourself and your soul and do not allow unpleasant outside factors or experiences to shape your mood or character – this is freedom.
Do you believe that the fashion scene, in general, is well connected to authenticity and spirituality?
It could be, depending on how you look at it.
You're based in London, but originally from Bulgaria, what do you think about the Bulgarian creative and fashion scene?
I have no direct contact with Bulgarian creative and fashion science, but I believe that there is a great young generation willing to develop those areas.
How does your heritage influence your designs?
I am fascinated by Bulgarian history, and never stop looking at my heritage, the great craftsmanship and traditions.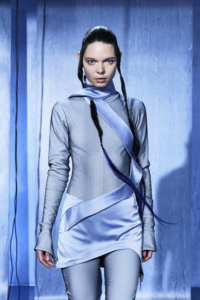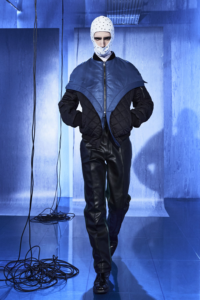 Do you think in order to "make it" in fashion, you have to relocate to one of the fashion hubs? Or are social media and globalization nowadays enough to allow someone to succeed?
Yes, I think that nowadays, especially after the global pandemic it is extremely difficult to succeed without the support and mentorship of the industry.
What's your dream?
Probably I am living my dream.
What are the next big moves for av vattev?
Stay tuned.