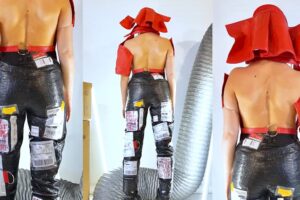 Source: Fashion Scout
Don't you just love it when someone has the brain, craft, and guts to take something and elevate it to infinity and beyond? I'm such a sucker for boundry-breaking, status quo-stomping, creatives. I guess I'm one of those hopeless romatics who wants to believe the world will be changed by those intrepid enough to try.
The latest creative to give me my faith in humanity back is London-based Macedonian designer Teodora Mitriovska. Her unique approach to fashion shatters gender norms, and goes hand in hand with empowerment and unconventionality. Fashion with a purpose, other than decorative, reigns supreme.
Her label T*MITROVSKA uses locally sourced and reused fabrics to create a single collection every year, which in turn is made up by garments manufactured entirely by hand in London. A tinge of the designer's Macedonian and Slavic roots permeates her work, and every collection addresses specific socio-political issues. If this weren't enough, the concept behind her collections can often be broken down into many overlapping layers, varying in depth of substance and complexity. The analytical premise of it all beautifully bordering on the esoteric.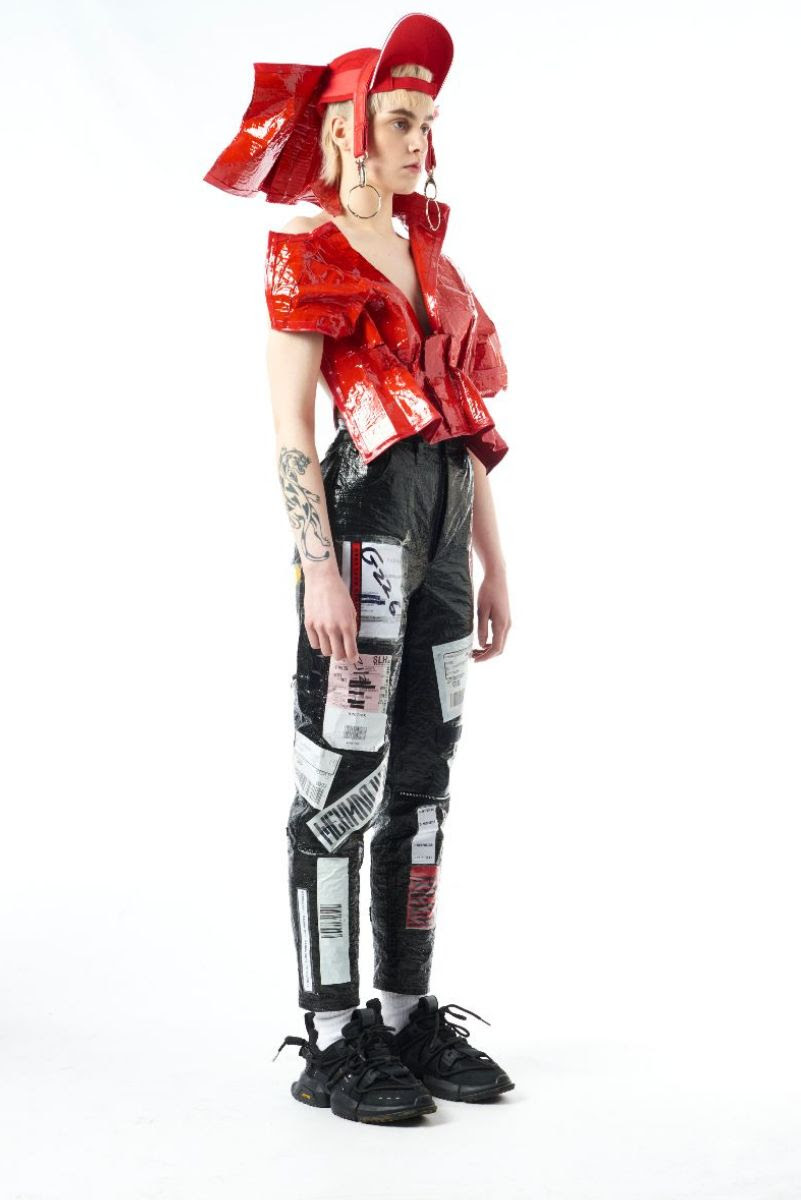 Courtesy of T*MITROVSKA
T*MITROVSKA's last collection "Post" (the title refering to both "post-pandemic" and "post-office") was Teodora's lock-down brain child. Inspired by the packaging waste resulting of an excess in delivery services since the pandemic's debut, "Post" aims to bring attention to the troublesome overconsumption and consequential waste accumulation. The designer reduced her packaging waste by 100% during the research and execution of the collection, having used it to create the pieces, in addition to deadstock from previous work.
Furthermore, "Post" tackles the objectification and fetishization of petite womxn by creating a collection catered towards petite womxn and non-binary people, thus bridging the industry's size gap.
On top of all that – as if it wasn't already substantially cogent -, Teodora looks forth towards post-pandemic times, where she believes garments will be perceived more as gadgets, than merely static clothes. As such, many of the pieces can be upgraded thanks to transformable elements, and in doing so, covering more than one function, and reducing consumption. A position increasingly shared by some of the industry's trailblazers.
…Is this what the future looks like?