The city of Copenhagen has been a leading figure in the sustainability movement, pledging to become the first carbon-neutral city by 2025. They have also proved that they can pioneer the sustainable fashion movement.
For the Danish capital, hosting its annual Fashion Week digitally earlier this year was about more than using preventive measures in the face of a global pandemic. Sustainability also played a major role. This goes to show, that for Denmark, the goal of sustainability can expand beyond the confines of an event, and become a manifesto to be applied in many other areas and industries.
Copenhagen Fashion Week(CFW), proved during its last edition that the Danish fashion industry is committed to taking the necessary action to help alleviate the climate crisis. Favouring a digital show was way more environmentally sustainable than hosting on the spot, but this came as no surprise taking into account that half of the word was still quarantined. So, the fashion organization took inspiration from the host city, and went a step further to push the sustainable-fashion agenda.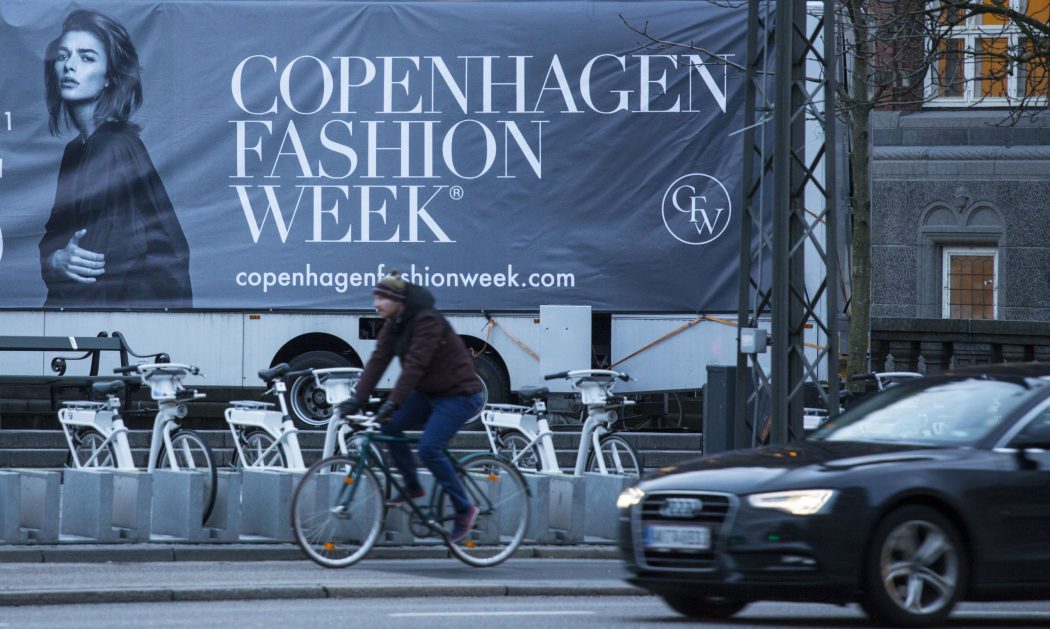 Source: News Oresund, Flickr Creative Commons
CFW followed the footsteps of the sustainable fashion movement, led by none other than the host city itself. After all, Scandinavian countries have always been trailblazers when it comes to environmental actions. Fashion is a powerful tool to raise awareness on this subject matter, and we have witnessed many efforts to effectively use this instrument.
One of the most cohesive and solid actions that the Danish fashion industry has undertaken is the three-year sustainability plan CFW Action Plan. Released in early 2020, the goals were in line with the United Nations sustainable development goals. This plan stated 17 base requirements in 6 interlinked categories that brands must fulfil to be eligible for the show. The requirements include using 50% recycled, upcycled, or organic materials, non-destruction of unsold clothes, repurposing samples, and many more. These policies have been essential in inspiring the industry to change, and it heavily demonstrates that the Danish fashion scene knows the difference between green and greenwashing.
CFW's sustainability goals can and should become the sustainable fashion week manifesto, not just in Copenhagen, but worldwide. Imagine what this could set off if it was implemented in Milan, Paris, New York, London, Tokyo, and Beijing? The influence can go far beyond the organization, it encourages eco-consciousness for the brands and raises awareness for the audience. But, what does it say about the bigger picture?
Source: Fashion Magazine
Those efforts are an essential step towards a large-scale change that takes inspiration from Denmark's commitment to environmental sustainability, as well as that of its residents. Sustainable urban redevelopment is number one on their agenda, and it's supported both by the municipality and the residents. The institutional framework has existed with the holistic climate plan since 2009, and the people are willingly following the lifestyle.
Transforming a lifestyle from a consumerist one to a sustainable, eco-conscious way of life, is challenging yet imperative. This intention influences consumption and creates demand. This demand inspires the supply, so industries are motivated to further transform production to support the signature, environmental lifestyle. Copenhagen can represent this change, it can be this change, and become the next generation sustainable fashion hub in the process. With all the existing efforts on the sustainable transformation movement, we expect the city to encourage sustainable fashion initiatives.
Source: Global Construction Review, "world's most sustainable building project in Copenhagen"
Change starts with a little flame and spreads like wildfire. One city can be a global inspiration, especially if it has people with enough awareness, resources and knowledge.
The city of Copenhagen proves that going sustainable is more than a trend now; it's a necessity. We don't have a spare planet to live on, so we need to take care of this one. And we better start taking that job seriously. Let Denmark shift our understanding of fashion and enlighten the path towards environmental adaptation. And most importantly, let's follow them on a sustainable fashion journey.