Pride might be over, but these amazingly talented artists work all year round!
Now that a great deal of the businesses that like to put a little rainbow flag over their profile picture have packed away all their rainbow-coloured merch until next year, we'd like to take a moment to appreciate some fantastic queer designers whose work you should follow all year round and not just the month of June.
Let's dive right into it, shall we?
No Sesso is one of the hottest brands out there at the moment, it also happens to be owned by the extremely talented black trans designer Pia Davis. The brand's name is Italian for "No Gender'. Pia David was the first trans woman to ever present a collection at New York's Fashion Week. If you're wondering how long ago that was, it was 2019, so a mere 3 years ago.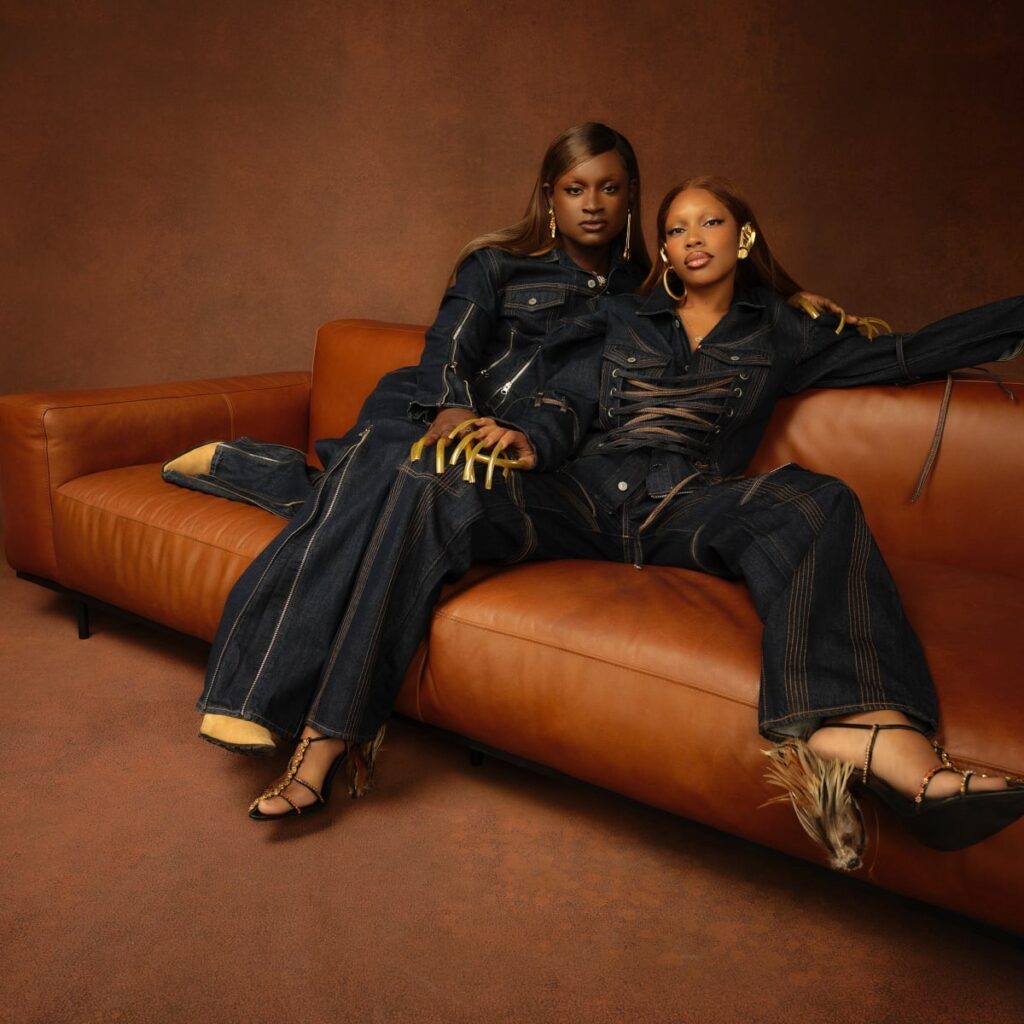 Make no mistake though, No Sesso may be a queer brand, but it is much more than that. Seeking to challenge the conventions of fashion, art, culture, and design No Sesso has truly carved its path in the industry and positioned itself as one of its trailblazers. Blazing said trail not just for themselves, but for everyone. Davis has defied the boundaries of the binary gender with its label, making sure that her message comes across loud and clear, and ripples throughout the industry: Be who you are, dress and look how you please. Diversity and inclusion above all.
One of the reasons why we absolutely adore this brand, besides its mouth-watering designs, is its internal evolution as far as its own queerness, and concept of queerness, are concerned.
What began as an exploration of masculinity and a (successful) attempt to break down social constructions only to rebuild them back up through a queer lens as a tool for empowerment, is now a space where the notions of masculinity and femininity don't necessarily have a place. A natural transformation which has taken place on par with that of its creator, Neil Grotzinger.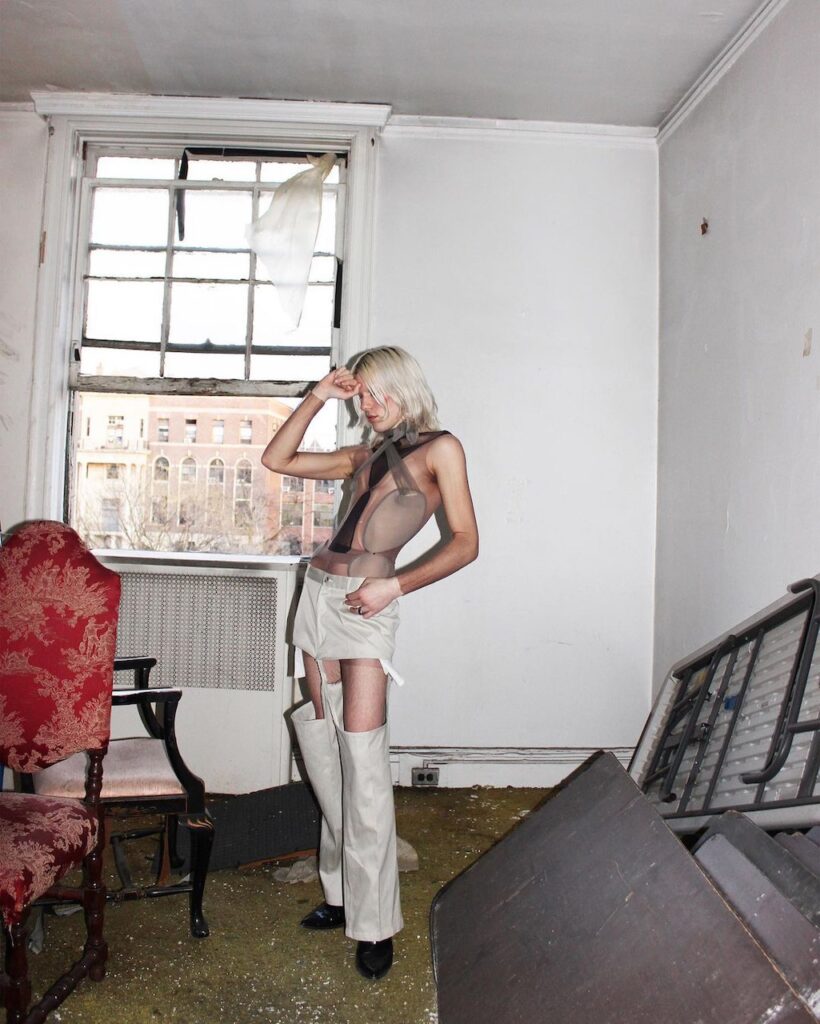 Their designs tend to walk on that fine line between past and future, an amalgamation of traditional garments infused with hand-crafted details and outlandish cut-outs which allude to a sense of eroticism that Grotzinger calls 'Masculine Effeminacy'. One thing's for sure, wearing NIHL will make you feel things you might or might not be ready for.
Yet another brand seeking to liberate the boundaries of menswear. It shouldn't come as that much of a surprise though, after all, traditionally menswear has been very limited as far as its expression went. It is thanks to designers such as Kenneth Nicholson that we are finally seeing exciting, innovative designs for men. Red carpets are no longer a stream of stunning gowns and black, or perhaps navy or grey at most, suits.
Kenneth Nicholson's gender-fluid pieces often have a flowy, harmonious, midsummer night's dream-thing about them. Textures, patterns, strong silhouettes and unconventional yet fresh accents and embellishments. You can't deny that Nicholson's designs stand out, it comes as no surprise that the LA native has become one of the go-to favourite designers for fashion-forward, cutting-edge celebrities. Lil Nas X, Lakeith Stanfield, and Jaden Smith, among others.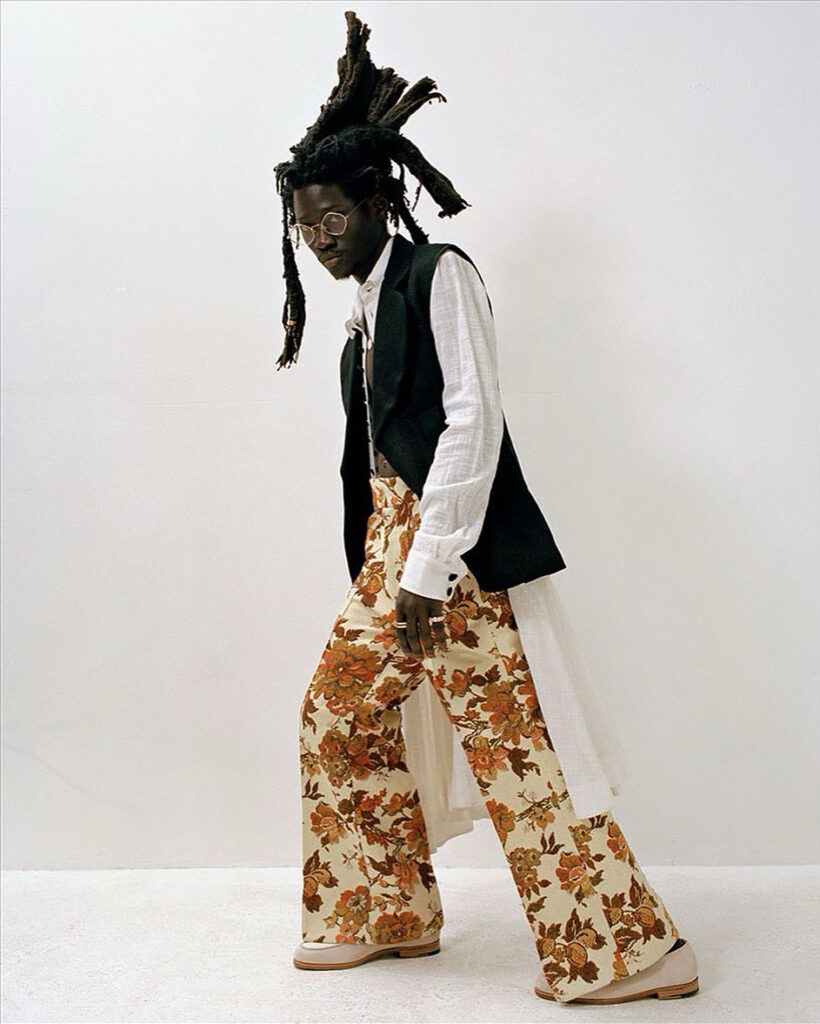 Unapologetically sensual, homoerotic fashion that subverts the limits of gender. That's Ludovic de Saint Sernin. But most of all, the eponymous label is a representation of the founder himself.
"Today you have more impact if you tell your own story rather than adopting an external theme. It allows people who are going through something similar to be reassured."
Saint Sernin is a label that is all about the body, specifically it is about how to dress and undress it. Eroticism presented in a light and airy manner, seeking to free the wearer from any boundaries imposed upon them. Although initially designed for men, as means of liberating them, the truth is Ludovic de Saint Sernin's garments are for everyone and are, in fact, worn by everyone. Sometimes his collections are presented in the Women's Fashion Week, sometimes in the Men's, and they can in-distinctively be sold in both sections of any shop.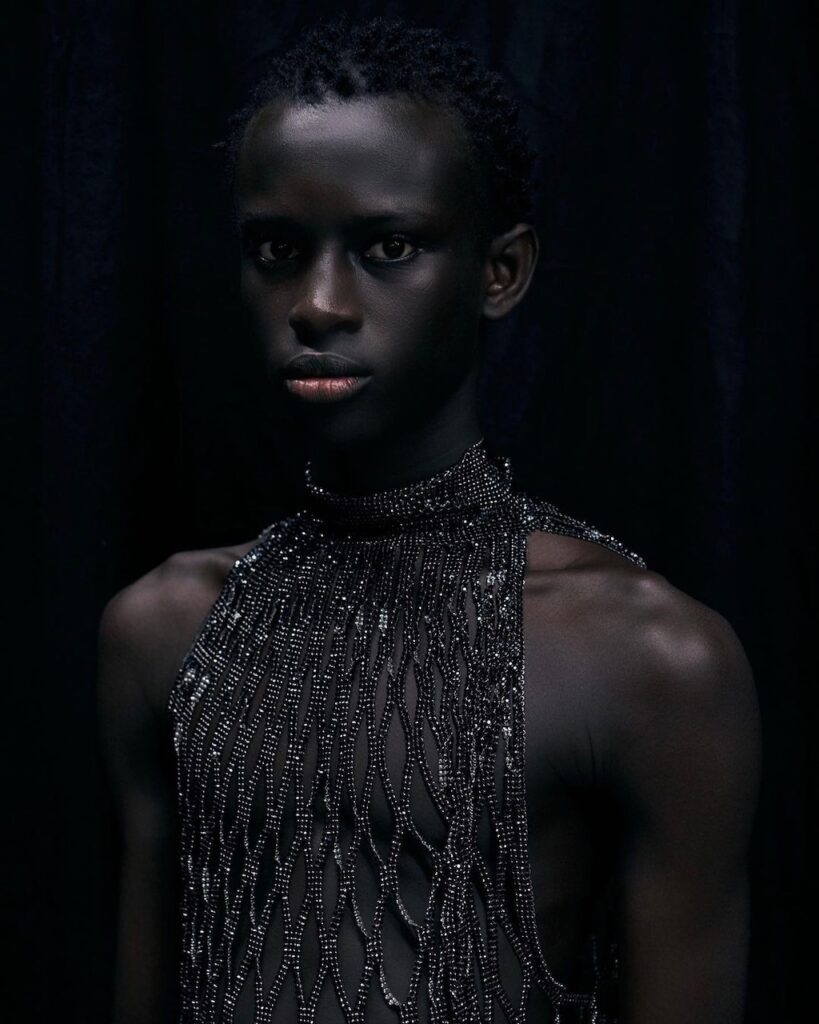 The label has evolved on par with its founder, as he explored his sexuality and stepped into it, so did the designs. The first collection back in 2017 was all about coming out and coming of age, and today his collections continue to make statements on gender fluidity, sexuality, and masculinity.
Bringing back Y2K-decadence, Brandon Blackwood's eponymous label has been conquering the handbag, wallets, and sunglasses scene. The Jamaican Chinese designer crafts classic shapes with traditional materials as well as completely bedazzled pieces. Luxurious, yet accessible, very on point and trendy statements.
Still, Blackwood's creations aren't only stunning pieces, he has also used his platform to speak up for issues that matter. In fact, it was speaking up on a deeply important topic, Black Lives Matter, that earned the designer widespread recognition. In 2020 Brandon Blackwood introduces a mini-tote with the words 'End System Racism' embroidered on the front. A portion of the proceeds of which was donated to Lawyers Committee for Civil Rights Under Law.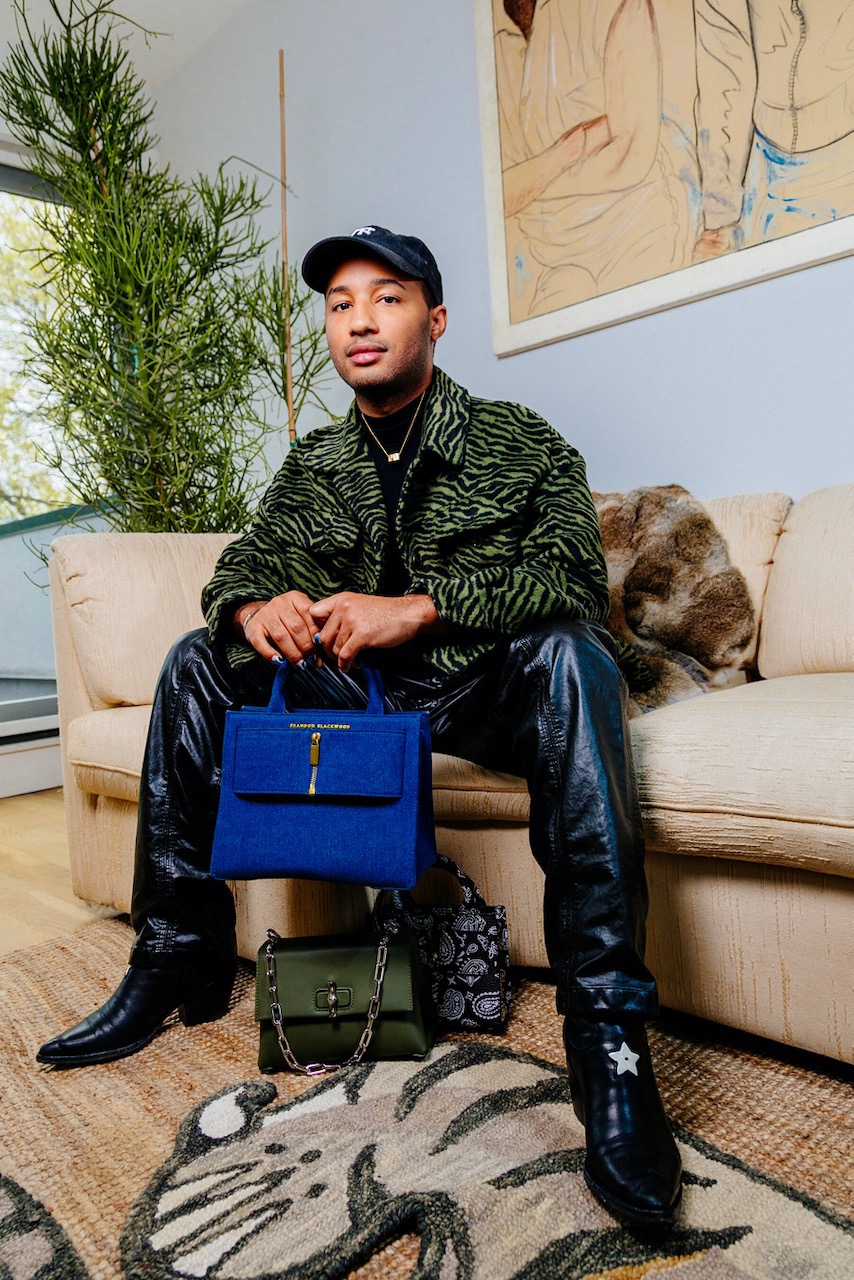 PHLEMUNS has a very interesting journey. James Flemons' fashion adventure started on Tumblr, and actually gained recognition here before Instagram or any other way. Interestingly enough, as the brand evolved and left Tumblr behind – audiences saw the brand too much as a mood board rather than a business and the NSFW ban killed a lot of the life on the platform – it moved towards Instagram, as have many other brands. And yet Flemons is, once again, seeking to make use of platforms that cater more to artists and respect their work as well as protect them from design theft like for example, OnlyFans.
As an inclusive unisex brand, Phlemuns seeks to bridge the gap between high-fashion and everyday clothing. Thus ensuring access to people who wish to express themselves via fun, customisable clothing.
PHLEMUNS isn't about making money, it's about making people feel good in the clothes they are wearing, regardless of what others may think. It's about feeling understood and included. James Flemons has, quite frankly, carved a space for himself in an industry that hasn't always been very welcoming, and we have no doubt he will continue to make audiences feel amazing and embraced with his clothing.