At this point in time, saying that technology has transformed *insert name here* goes beyond stating the obvious. The inherent evolution that occurs to most, if not all, industries once the relevant technology evolves and is properly integrated within is a given. That's not to say that all innovation works at the time that it is presented. Remember Microsoft released tablets long before iPads were a thing and yet they kinda flopped. However, after this year's developments in VR, we think it's safe to say that the time has come for Virtual Reality to truly make a difference in retail. This past year – or more specifically, these past few months – goes to show just how much the concepts of a virtual store or a virtual showroom have evolved.
Virtual reality has been around for a while, but we feel like it's only recently that the user-level technology has evolved and been put to use in such a manner that it actually seamlessly integrates with the virtual online shopping experience. Nowadays a virtual showroom adds to the value of the digital customer experience, truly enhancing it rather than just being a momentarily exciting but eventually glitchy and impractical gimmick.
How virtual reality is used in fashion
Virtual reality in fashion is used in many ways, whether it's through virtual clothes, virtual stores, virtual showrooms or simply virtual experiences related to fashion this technology has truly blossomed in the fashion industry. The pandemic definitely hastened the implementation of virtual reality and ever since the virtual ball's been rolling around the fashion industry faster and faster still. We saw VR take over numerous fashion week's throughout lockdown, collections increasingly using VR elements during their digital drops and immersive brand experiences have been popping up left, right and centre… Some being better than others of course.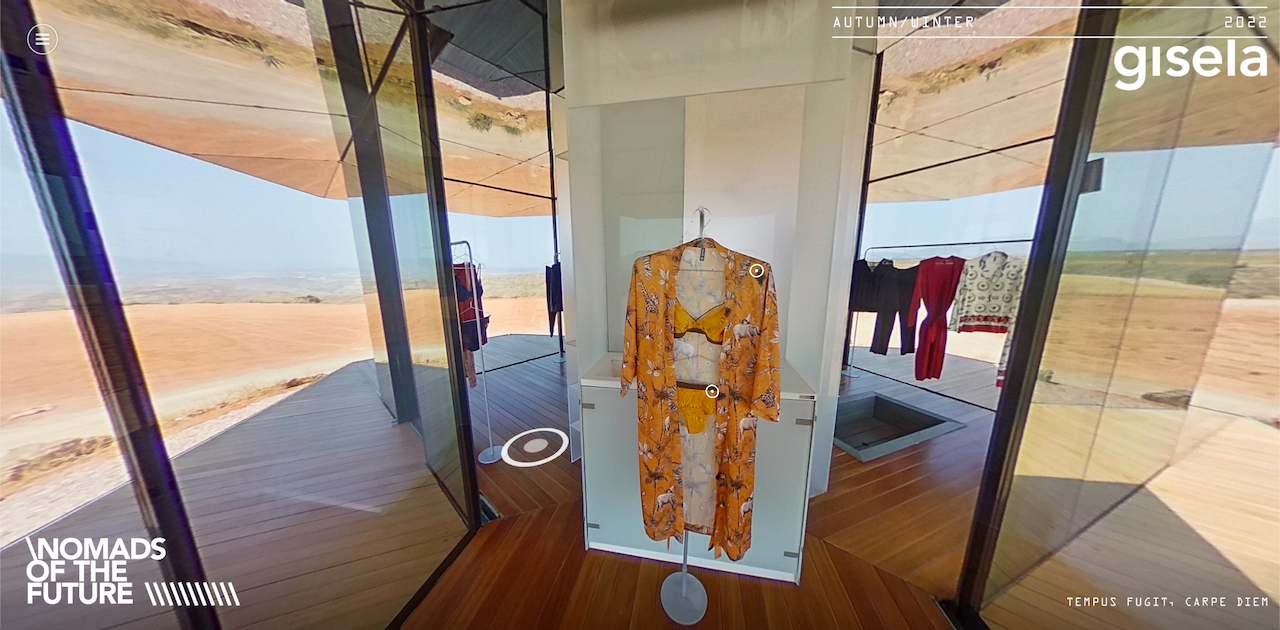 Gisela's stunning Nomads Of The Future presented in a virtual showroom elevates the possibilities when presenting a new collection
Spanish brand Gisela presented its Autumn/Winter 2022 collection via a virtual showroom that here at The Next Cartel we had the pleasure of working on. The immersive brand experience is the perfect example of how VR can be used to elevate a collection drop into something that truly explores and highlights the concept at hand.
Generally speaking, the customer experience no longer takes place solely in the physical realm. As a matter of fact, for many, for the most part, virtual shopping has become a staple happening. Therefore it makes sense that if you would invest in making a physical storefront as representative of your brand as possible, you would do the same with your digital space. Virtual online shopping in itself, the digital journey that the customer embarks on, is as important as the product itself. And given the lack of physical limitations in the digital space, brands have the chance to delve further into their collection's concepts and their brand identity. In this case, you enter Gisela's store in the middle of the desert, where you can seamlessly browse and purchase the collection both on desktop and mobile.
Hugo Boss made virtual shopping much more practical with its virtual fitting room
This summer Hugo Boss implemented one of the most practical digital customer experiences we've seen so far. Together with the platform Reactive Reality, Hugo Boss added a virtual fitting room to its website. Now while this might not be entirely new, the luxury brand's new virtual fitting room is a hell of a lot more comprehensive than most of the ones out there.
So how does it work? It's quite simple actually. Users can enter their measurements to create an avatar which then shows exactly how the clothing would look. The difference with many of these online avatars is that it takes into account not only your standard size but also your body shape and morphology. For example, it will ask for details such as neck circumference and inseam length. Resulting in a rather accurate virtual representation of the customer. Moreover, the virtual shopping experience becomes even more functional due to the endless possibilities as far as virtual fittings go. You can layer various items and style them in many ways, choosing different ways of wearing the selected model. This significantly enhances the virtual online shopping experience and solves one of the biggest issues that customers – particularly those whose bodies do not fit in the restrictive standard size box – face when buying clothes online: Not being able to try something on before buying it.
Nike's out here crushing the immersive brand experience game
Ever since Nike announced Nikeland on Roblox at the end of 2021, their immersive brand experiences have just been getting better and better. Users have been flocking to Nikeland to explore this new digital venture. Nike's virtual store gives users the chance not only to browse its products but also to play games and compete digitally in sports such as dodgeball and basketball, as well as the classic and unbeatable 'the floor is lava'.
Nikeland works so well precisely because it's so much more than a store. And see that's what it's all about, about virtual shopping being so much more than simply shopping. That is precisely what VR brings to retail. Buying a product is no longer a mere transaction, it's an experience.