Hold tight and put on your futuristic perspective spectacles! We're going on a journey. Our understanding of fashion has always been dynamic and changed significantly over time. And now, our relationship with fashion is about to change forever.
The tech-dystopias have become a mainstream genre in the entertainment industry. Humanity is fascinated by the risks of technology. However, we also see plenty of innovative and inspiring products displayed in those fiction universes. So let's emancipate technology from notoriety, and celebrate the companies who are brave enough to explore the potentials of technology. You know what we're talking about, it's all about those advances in the industry which seem to be permeated with Black Mirror vibes. Still, let's keep it casual for now, and highlight the potential value of the invention above its potential hazards.
Source: Engadget
Fashion Tech enables us to live an outright fashion experience. Technology is transforming the existing rules in the fashion industry. Now, functionality is as important as looks. We are in the digital era, so does our garments. With the new innovations, we can interact with the designs more and more, and they also interact with us or react to the outside world.
These smart glasses will help you capture life as you live it, stay online, and share singular moments from your unique perspective with the world. It also provides background music to life! Now, everyone can be the protagonist!
Still, even if we manage to experience that main character feel with Ray-Ban Stories, an issue arises: privacy. Privacy is oftentimes the price to pay for technology, an issue that worries consumers worldwide Thankfully, Ray-Ban anticipated this too. There are numerous built-in features on Stories to control the technology both for the users and for the bystanders.
Ray-Ban Stories comes in 20 different variations and 5 different colours to match the user's style. They can really be included in your signature look and help you stay communicated with family and friends, plus experience life as never before.
Stealth Wear by Mr. Harvey
Tech fashion is significantly breaking-through and setting itself apart from conventional innovations. If you thought the smart glasses were cool, check out this reactionary tech garment. Meet the counter-surveillance movement. More than a trend, it could be the next step of the fashion evolution: Stealth Wear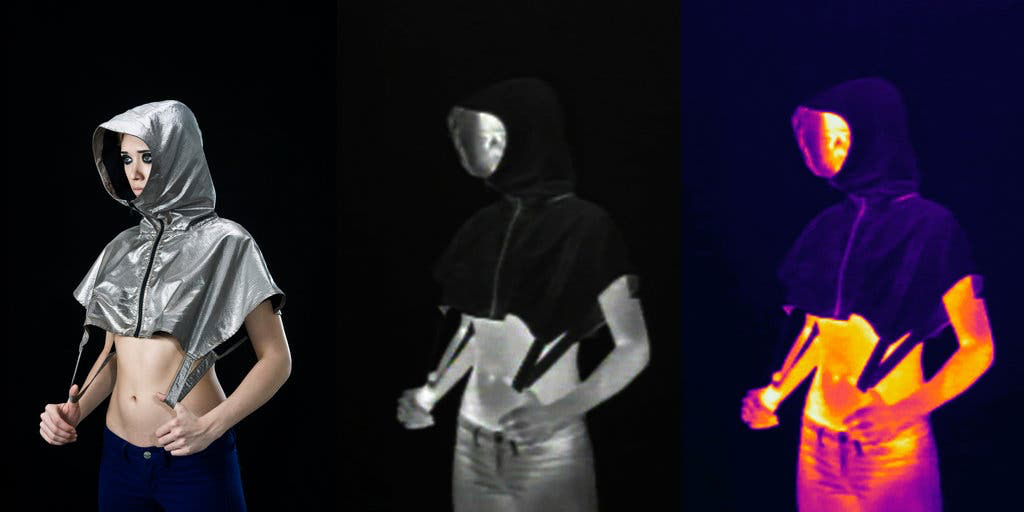 Source: NY Times
The main focus here is on coverage designs. The reflective fabric enables one to hide from aerial surveillance recognition. Besides providing privacy, it also helps to reduce a person's thermal footprint. Mr. Harvey is constantly experimenting around this notion, and has also developed an extra-bright LED for garments that keep you safe from unwanted pictures. We're increasingly seeing dystopian inspired innovations, that can facilitate our life and create a safe environment amid the feared technological hypervigilant state.
Jacquard, Project Jacquard
Jacquard is a device that enables interaction with the digital world in mundane life. The design facilitates the storage, but Google didn't stop there and pushed the limits of wearable technology. They joined their forces with Levi's and came up with this ambitious idea: Project Jacquard, a technological commuter jacket.
Project Jacquard created a jacket that enables one to answer calls, access navigation, or change music by only holding or swiping the jacket's sleeve. Now that's what we call having something up your sleeve, specifically technology solidified on a garment.
The Unseen Chameleon
Colour is a broad, intriguing concept yet to be explored fully. Even new colours are discovered, such as the new black shade darker than vantablack, yet to be named. London-based startup The Unseen, has managed to show us something quite literally unseen by experimenting with the concept of colour. Lauren Bowker, the fashion alchemist, came up with an idea that exceeded our expectations of fashion: The Unseen for Selfridges.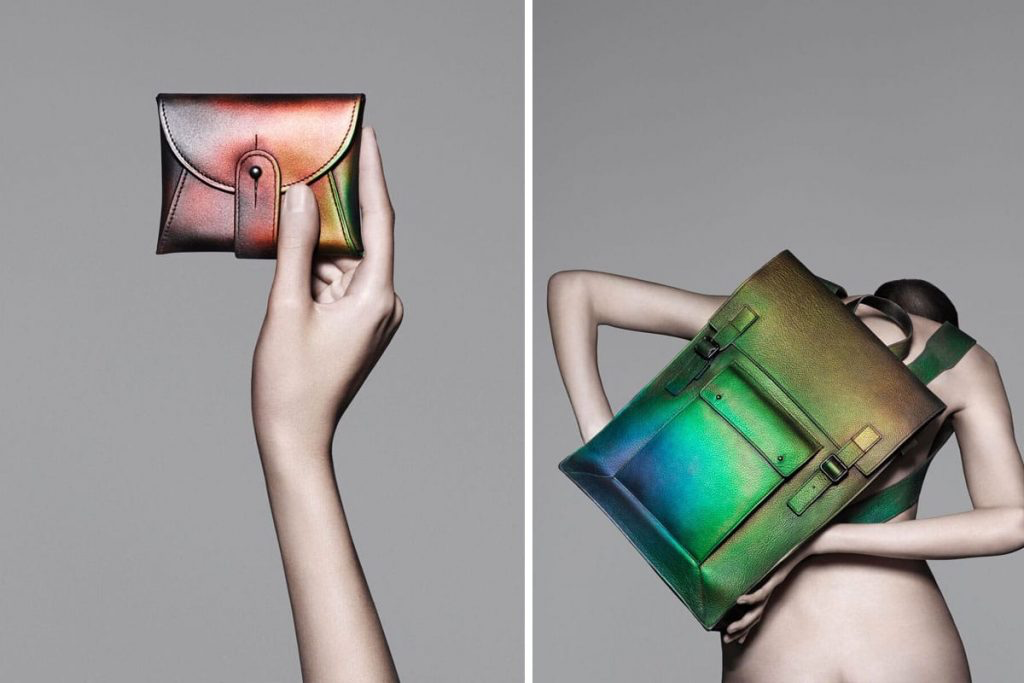 Source: Ideanote
This is a luxury accessories collection that reacts to air pressure or even sunlight and wind. The designs respond by changing the colour! For example, the bag has an environmentally responsive ink that enables it to switch different colours throughout the spectrum. It becomes black in the winter, red in the spring, blue in the summer, and green-red gradient in the fall. You don't need to check the forecast anymore; you can simply look at your bag and find out the weather.
Mood Garment and many more by Studio XO
Do you feel like you're not able to show your emotions? Worry no more! Studio XO has heard your prayers. Studio XO has teamed up with Nancy Tilbury and Phillips, in order to create the bubble dress: A dress which changes color according to your mood!
If you still want to hold onto your poker face, Studio XO also offers different types of tech garments. The potential of the bubble dress initiated a collaboration with TechHaus, the technical division of Haus of Gaga, for dresses for Lady Gaga's ARTPOP campaign. The designs are various, from a 3D printed bubble machine dress, Anemone, to a dress that takes a flight, Volantis. Starting with couture pieces, the company now seeks to serve fashion tech to the masses. They are aiming for a literal revolution in the way that fashion is worn.
These companies and many more are experimenting with the interaction between technology and fashion, and the results keep us wanting more. Garments can create a link between technology and humankind, and this bond can also enhance human capabilities. Human-Machina is not just sci-fi anymore. It is possible thanks to wearable fashion. It is a goal, apparently soon to be achieved.
The future is here. Materialized, ready to be worn. Get yours now and be a part of it.